A great-grandfather from Truro has hit the lottery jackpot, winning £13.5 million in last week's Lotto Rollover.
Three different people told Peter Congdon, 67, it was his lucky day after he won a few pounds on scratchcards three days in a row. When he got lucky on the Rollover his first thought was that he had won £25, before double checking with his daughter that it was the magic six.
"When she agreed with me, I came home and put my ticket in a book in the kitchen and made myself a cup of tea. Needless to say, I didn't get much sleep that night."
– Peter Congdon, Lottery winning
Mr Congdon, a widower, is a father-of-three, grandfather-of-ten and great-grandfather-of-one in a close-knit family who all live nearby. He says he'll be treating himself and his children to new cars, but this year's family holiday won't be changing - they'll be going to Butlin's, as they have for 40 years.
Mr Congdon is the latest winner from the region, joining recent winners Jenn Burston from Exeter who won £3 million at Christmas, and a syndicate group from Plymouth who won last summer.
A great-grandfather from Cornwall has won £13.5 million on the lottery.
He's the latest winner from the region, joining recent winners Jenn Burston from Exeter who won £3m at Christmas, and a syndicate group from Plymouth who won last summer.
All we know is that the great-grandfather is from Truro - his identity will be unveiled later today.
Advertisement
Hundreds of people dressed as druids, wizards and fairies have turned out for the funeral of a wizard in Cornwall.
63-year-old Ian Wilson was better known as Eron the Wizard. The former builder from Gloucester died from cancer two weeks ago.
He embraced the Wicca religion on moving to Cornwall, and spent his time acting as a 'gate keeper', encouraging others to believe and also offering spiritual support to other cancer sufferers.
His daughter Rebecca Spencer organised a traditional Wicca ceremony for his funeral, which is a modern form of Paganism.
I'm not into the Pagan and Wiccan things, he was just a normal Dad to me, you know funny, kind and I could tell him everything, he was like my best friend.

What I've done today is for him, it's not for me, it's what he would have wanted. When he was alive he loved being the centre of attention, so now he's the centre of attention in death. He would be proud I think.
– Rebecca Spencer, Ian Wilson's daughter
The ceremony was presided over by family friend and High Priestess Julia Stoiber who flew in from Austria to perform the ritual which involved casting a circle and blessing it with the elements.
Hundreds of people dressed as witches, fairies and druids are expected in Cornwall this morning, at what's believed to be the first pagan funeral in the country for centuries.
Ian Wilson, also known as Eron the Wizard, was a so-called "White Wizard" from Tintagel. He died of cancer two weeks ago, and his family have said they wish to honour his Wiccan beliefs.
The ceremony is thought to be being conducted by a high priestess, with torchbearers, pagan blessings and other Wiccan ritual elements.
A woman and baby have been taken to hospital after the car they were travelling in crashed into a house in St Austell. It's thought the injuries are not life threatening
It happened on Carwollen Road around lunchtime today and it's thought no one was in the house at the time.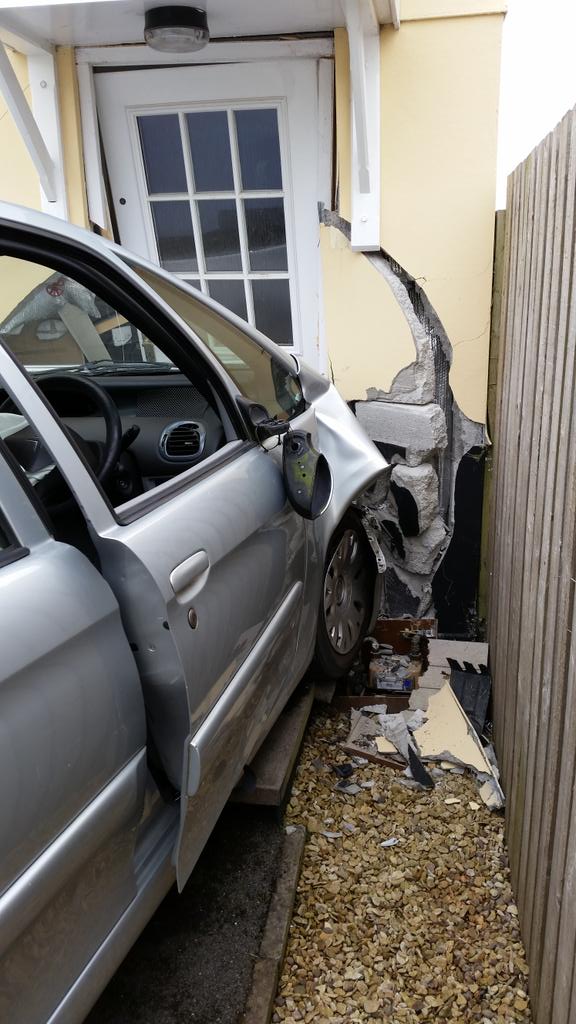 The collision caused a gas leak and engineers were called in to deal with the problem and remove the car.
A man who went missing from Treliske Hospital in Truro may be in a confused state and may not respond to his own name, say police.
Andrew Lambert, 58, from Camborne, Cornwall suffers from a condition which causes amnesia. He has been travelling around the country since going missing two weeks ago, and officers are concerned for his welfare.
He is described as 6ft tall, of medium build, with grey hair and a beard. He wears glasses, walks with a limp, uses a stick and usually wears shirts and jeans.
Advertisement
A woman has been charged with perverting the course of justice after a doorstep acid attack left a man fighting for his life.
Dad Andreas Christopheros had the chemical thrown in his face after answering the front door at his home in Carrine Road, Truro, on December 9 last year.
45-year-old Nicole Phillips, from Hastings in Sussex, has been charged with perverting course of justice. She is due to appear at Bodmin Magistrates Court on April 30.
David Phillips, a 48-year-old also from Hastings, was earlier charged with GBH with intent and is due to stand trial on June 8 at Truro Crown Court.
Students have joined expert Brian Sheen from the Roseland Observatory to view the eclipse using specially adapted telescopes and carting out scientific experiments which project the image on the sun onto a white card .
The conditions really are perfect here and I'm always excited to start to see the sun disappear. We won't see another event like this until 2026 and a for a full eclipse 2090.
– Roseland Observatory
The temperature has gone really cold I can't believe how much it's dropped. It's amazing for this to happen the year that we're studying astronomy.
– Lowenna Penny
I thought it would look really fuzzy but the image was really sharp as the moon moved across the sun.
– Rosalind Williams
Police in Truro are warning women not to walk alone at night after a woman was attacked in the city.
The 22-year-old local woman realised she was being followed by a man near the Trafalgar roundabout at around 3.30am on Saturday 7 March.
The man grabbed her and attacked her before running away. The woman was slightly injured.
The suspect is described as around 5ft 6ins, with a bald head and a foreign accent. He was wearing jeans and a hooded top. He may have a visible injury to his face.
We would encourage girls and women in the city to be vigilant, and not to walk alone at night. We are keen to speak to anyone who witnessed the incident or has any information that could help with our enquiries. Anyone who is approached by a man matching this description or who sees someone acting suspiciously should report it to police.
– Detective Constable Matthew Cobb, Devon & Cornwall police
Anyone with information is asked to email 101@devonandcornwall.pnn.police.uk, or call 101, quoting reference CR/015726/15. Or alternatively call Crimestoppers anonymously on 0800 555 111.
The mother of a Muscular Dystrophy patient says he could have lived longer if he had been given access to vital medical equipment sooner.
Read the full story ›
Load more updates