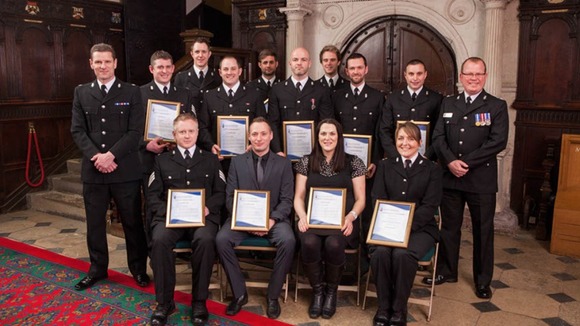 Police officers in Exeter, East and Mid Devon have been recognised for their selfless acts of bravery and diligent examples of professionalism in frontline policing.
Superintendent Chris Eastwood; said, "These awards recognise the excellent work that goes on across the policing area, both on the frontline and behind the scenes. Their bravery and professionalism help keep the communities of Exeter, East and Mid Devon safe.
"I am proud to command such a skilled and hard working team of officers".
Commander Certificates awarded to:
Police Sergeant Alan Barnsley - for outstanding local knowledge and police work- Detective Constable Louise Davies - for exceptional police work- Detective Constable Andrew Hingston - for dedication and commitment to Operation Thread
Police Constable Owen Jones - for courage and professionalism- Police Constable Owen Jones - for resilience and professionalism- Police Community Support Officer Kevin MacLeod - for professionalism and tenacity in resolving ASB in the community
Police Constable Robin Poole - for courage and professionalism- Police Constable Thomas Quick - for courage and professionalism- Police Sergeant Paul Roberts - for courage and professionalism
Devon Commander Commendations awarded to:
Police Constable Mark Curnow - for saving a life in extremely dangerous circumstances- Police Constable Robert Dodd - for saving a life in extremely dangerous circumstances
Police Constable Anthony Osborne - for saving a life in extremely dangerous circumstances