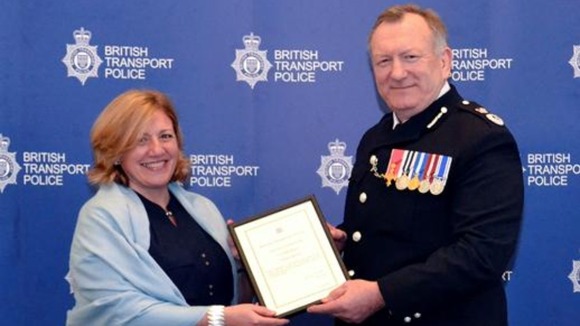 A woman who intervened to stop a fight between two groups of men from escalating on board a busy train in Devon has been presented with a bravery award by British Transport Police.
Naomi Spencer, 45, of Crediton, Devon, was presented with the award by BTP Chief Constable Andrew Trotter during a ceremony held at the British Medical Association building in Tavistock Square, London,
Single-mum Ms Spencer, a hairdresser at Headstart in The Guildhall, Exeter, was commended for putting herself at considerable risk after stepping in to prevent the two groups from fighting on a busy commuter service to Barnstaple on Friday, 29 October 2010.
The two groups had clashed earlier in the evening in a pub in Exeter over a historic murder. Police became involved and split the groups up but members of both factions later caught the same train and tensions flared once again after the 1657hrs service departed from Exeter St Davids station.
Ms Spencer, who was returning home to Crediton, said she stepped in when one man entered the carriage she was in and began provoking six members of the rival group.
She said: "The six lads started having a go back at this other one lad who was already covered in blood from the earlier fight."Okay, he'd had a go at them but I didn't really care about what had gone on beforehand. I just thought six against one? That's not on.
"There was a lot of swearing and bad language. I'm a single mum and I thought I can't let this happen on a busy train. A lot of the passengers seemed worried about what might happen.
"It was out of order so I told them to pack it in and I gave them clear instructions that I wanted them to stay apart. I just wanted everyone on the train to be safe. I think if I would have ignored things, the situation would have got far worse.
"I'm a short, dumpy woman – but I just gave them a 'mum' look and told them to stop messing around."I just wanted to get home – as did everyone else on the train. It was a Friday evening, I was tired and I just wanted it to stop."
Due to the ongoing incident, the train driver was given permission to reverse the train back into Exeter St Davids station so that it could be met by BTP officers who dealt with the youths involved.
Ms Spencer added: "I didn't really think about what I was doing at the time. I just thought, I'm a mum and I have a son – if he was in this position, I'd hope that someone would do the same as me and stop the situation from escalating."
BTP Chief Constable Andrew Trotter said: "I was very pleased to be able to present Naomi with such a prestigious award for her incredibly brave actions, which were absolutely outstanding and undoubtedly prevented the situation between these two groups becoming far worse."