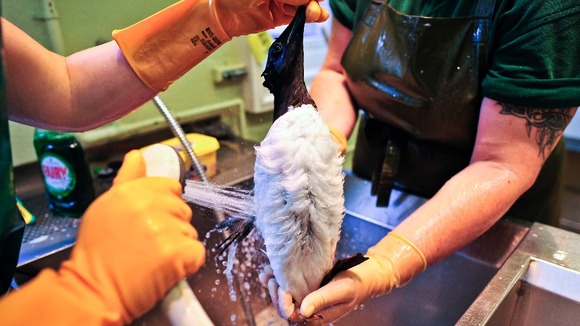 More birds are being washed up on beaches across the south-west coast covered in a sticky substance, the RSPCA has said.
The guillemots have been collected from beaches stretching from Mevagissey in Cornwall to Plymouth and Whitsand Bay.
An RSPCA spokesman said: "Five of the birds have been taken to the RSPCA West Hatch wildlife centre in Taunton, Somerset, where unfortunately they have been put to sleep to end their suffering.
"There is no indication of where the pollution is coming from."
In February, hundreds were killed by the pollutant, which affected a 200-mile stretch of coastline.
Experts at Plymouth University found the mystery substance was almost certain to be an oil additive known as PIB.
But the Maritime and Coastguard Agency said it had been unable to trace the source of the spill and confirmed it had closed the investigation.