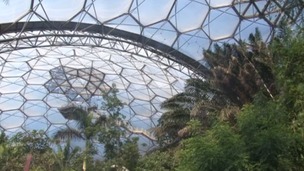 The Eden Project has been given a Government grant to help introduce us to the exotic and strange baobab fruit.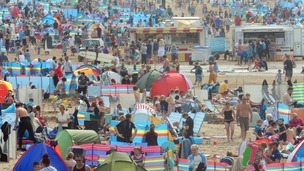 A survey by travel website Trip Advisor puts west country beaches in the top ten in the UK and Europe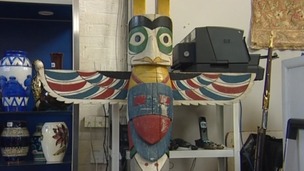 A totem pole spotted in a Dorset farmhouse has sold for £19,000 at auction in Dorchester. It was being used as a coat stand.
Live updates
Devon 3 held in Russia
A man from North Devon who was filming a Greenpeace protest in the arctic has been told he'll have to stay in jail in Russia ahead of his trial.
Kieron Bryan was on board the Arctic Sunrise when it was involved in the protest. Today Mr Bryan's family told us they want their son released immediately. Richard Lawrence reports.
Devon 3 held in Russia
The parents of a man from Devon who was arrested after a Greenpeace protest in the Arctic have spoken about their fears and frustrations after he was denied bail.
Andy & Ann Bryan were talking about their son Kieron who is being detained by authorities in Russia. He had his appeal turned down this morning.
The appeal was based on the fact that Mr Bryan is a journalist, and not an activist.
Advertisement
Devon 3 held in Russia
The Foreign Secretary said today that embassy officials are doing all they can to help the British nationals being held in Russia following a Greenpeace protest in the Arctic. Three of them are from Devon.
The families of Kieron Bryan and Alex Harris have today told our reporter Richard Lawrence that they've been overwhelmed by public support.
Devon 3 held in Russia
29 year old cameraman Kieron Bryan has been told he may be detained for two months pending a piracy investigation in Russia.
He's one of 30 people arrested after a Greenpeace vessel was boarded by the Russian coastguard.
Greenpeace has described the charge as "absurd and outrageous".
Mr Bryan's parents, Ann and Andy from Shebbear in North Devon are hoping to meet Deputy Labour Leader, Harriet Harman to campaign for his release.
Mr Bryan's brother, Russell says he's hoping the British government will help.
We are looking to the British government to do as much as it can to help Kieron and the others being held in Russia.

We want to get them free as soon as possible and we are sure the backing of the British government could help us achieve that.

Harriet Harman is my brother's local MP and she has shown a great interest in this case.

Between 50 and 100 of Kieron's friends have written to her office asking for help, and to be fair her staff have been really good.
– Russell Bryan
Devon 3 held in Russia
The parents of a woman from North Devon charged with piracy in Russia say they're shocked and worried about their daughter.
Alex Harris was among 30 people arrested after a protest at an oil platform in the Arctic. They were aboard a Greenpeace ship.
They're now being held in the Russian city of Murmansk. Two other people from Devon have also been charged. Linda and Cliff Harris say they're very concerned for their daughter.
Devon 3 held in Russia
A man from North Devon has been charged with piracy by the Russian authorities. Kieron Bryan was among a group of people taken in to custody after a Greenpeace protest at an Arctic oil rig.
His parents, and the parents of one of the other local people detained, have spoken to us about their shock at what's happening to their children.
Richard Lawrence has the story:
Advertisement
Greenpeace activists out on bail
National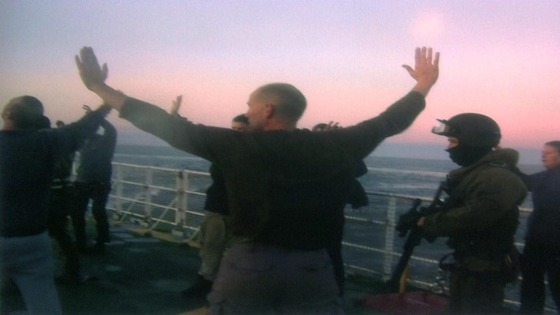 Greenpeace have released new photos of its ship Arctic Sunrise apparently being boarded by Russian security forces during a protest against Arctic drilling.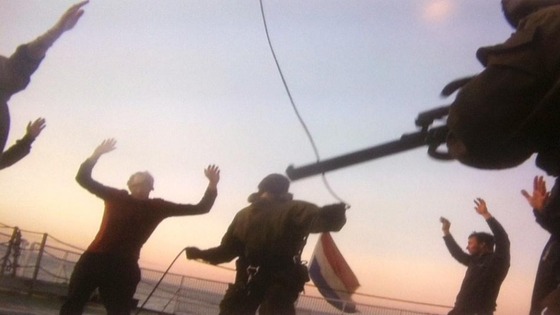 Thirty activists were arrested last month while protesting against drilling by Gazprom, the Russian energy giant.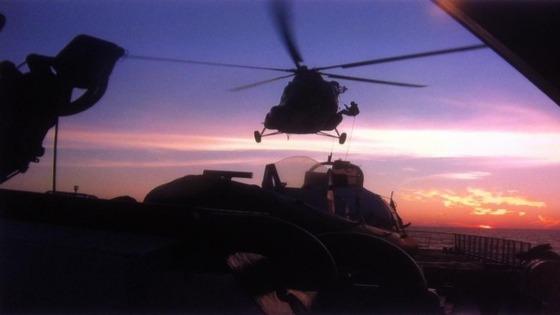 Russian authorities have charged two of the protesters with piracy, including Briton Kieron Bryan, 29, a freelance filmmaker.
West Country soldiers in Mali
Soldiers from First Battalion The Rifles are in Mali training local troops for their war against Islamist rebels. Defence correspondent, John Andrews visited the Rifles ahead of their deployment.
Fishing boat runs aground
The skipper of a French fishing vessel has been ordered to pay £11,155 in fines and costs after pleading guilty to endangering his vessel and crew together with failing to keep a proper look-out after falling asleep.
The 'Scuderia' sailed from Roscoff in northern France last Wednesday, 28th August, but ran aground at Lankidden Cove between Cadgwith and Coverack.
None of the 5 crew was injured but the forward fuel tank had been ruptured, with the loss of approximately 10 tonnes of diesel.
An anti-pollution and salvage operation was put in place and the vessel was refloated on Monday.
The 38-year-old skipper, Gilles Lemaitre, appeared before Truro Magistrates' Court today where he pleaded guilty to both offences.
There are no excuses for the person responsible for navigating the vessel to fall asleep on the job.

More so when that person is the skipper who has taken medication that could impact on him staying awake and alert.

He could have called one of the other crew members to come to the wheelhouse and take over.

This was a serious incident which could have had much more severe consequences.
– Tony Heslop, Maritime & Coastguard Agency
Fishing boat runs aground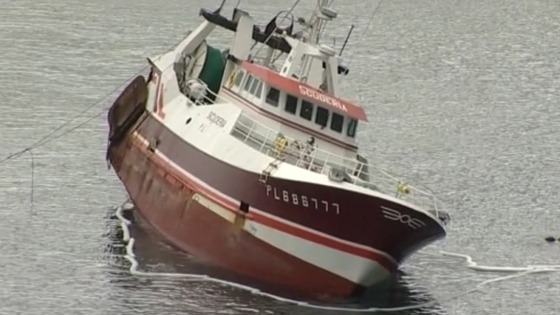 A fishing boat that has been stranded on rocks on the Cornish coast since last week has been successfully refloated.
Another bid was made earlier this afternoon to rescue the Scuderia after two previous failed attempts. The vessel is being towed to Falmouth for inspection and repair.
Ten tonnes of fuel leaked into the sea off the Lizard when the French boat ran aground late last Wednesday. Five crew members had to be rescued.
Load more updates