Live updates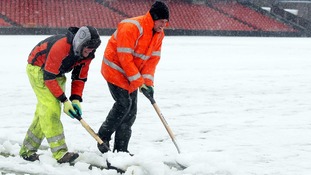 Northern Ireland's World Cup qualifier against Russia has fallen foul of the weather for the second time in 24 hours
Read the full story
Ice on the pitch at Windsor Park
UPDATE: The referee has just called the match OFF as ice is forming on the pitch. There is no need for fans to come to Windsor Park to help
From
@OfficialIrishFA
on Twitter:
We realise that the request for help was quickly followed by the official postponement, but it was the referee's decision due to the ice
From
@OfficialIrishFA
on Twitter:
Advertisement
Confirmed: Northern Ireland v Russia called off due to snowy weather
Northern Ireland's World Cup qualifier against Russia has been called off due to bad weather rendering the pitch at Windsor Park unplayable, the Irish FA has confirmed.
Northern Ireland v Russia off
Hearing Northern Ireland v Russia is OFF. If true, will confirm asap.
From
@itvfootball
on Twitter:
Back to top