Podolski: We're ready for the challenge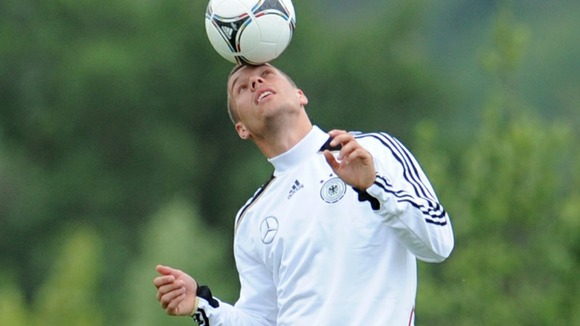 Lukas Podolski says Germany will be fit when it counts after a succession of recent disappointments for Joachim Low's national team.
A 5-3 defeat to Switzerland at the weekend came a week after Bayern Munich lost the final of the Champions League and there could justifiably be a few dropped heads in the Germany camp, but Podolski trusts their tournament mentality to kick in when it matters.
The eight Bayern players in Low's preliminary 27-man squad were put through their paces in training for the first time after the Champions League final today and that also gives Podolski reason to be optimistic.
"There is no doubt that with the eight Bayern players here, the quality improves," he said.
"They are top guys and we have missed them."
Their experience was certainly lacking on Saturday when Germany were humbled 5-3 by the Swiss.
Yet Podolski is not reading too much into that result, or the performance, as he focuses on Germany's first group game against Portugal on June 9.
"It has been the same in previous years, when we lost 4-1 to Italy (in 2006), for example," Podolski said on the website of the German Football Association (DFB).
"Of course defeats like this shouldn't happen and they hurt, and losing 5-3 to Switzerland is definitely not on, but I can promise there will be a different team on the field (against Portugal).
"We have got to live with the criticism. We are all focusing on Portugal and have got to be fit for that game, and we will be fit."
To take their minds of the defeat in Basle, 25 members of Low's squad paid a visit to the Monaco Grand Prix yesterday.
"It was a good day for us to get our heads free," said Podolski.
"I enjoyed it and the lads enjoyed it too, but now we are focusing on the Euros."