One to watch at Euro 2012: Roman Shirokov
by James Appell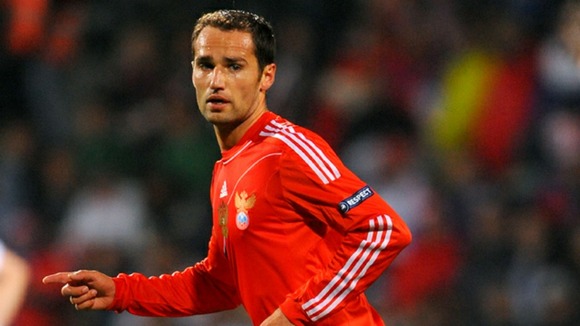 For a man who has become so integral to Russia's national team, it's interesting to note that Roman Shirokov's international career was nearly finished four years ago, after just five caps.
Faced with an injury crisis ahead of Russia's opening group game of Euro 2008 against Spain, coach Guus Hiddink opted to employ Shirokov - largely a central midfielder by trade - as a centre half.
The eventual champions duly exposed Shirokov's defensive frailties, running out 4-1 winners. The Russian press rounded on Shirokov, with Viktor Gusev, one of the country's most esteemed commentators, labelling him "not an international player".
He never played again under Hiddink, and his chance at redemption never looked like coming - until Dick Advocaat's appointment as national team coach. Advocaat had bought Shirokov while managing Zenit St Petersburg, and opted to employ him in his natural position. The player has never looked back, appearing in 15 of the 19 internationals played under Advocaat.
He has earned that place too, with a series of energetic performances at the heart of Russia's midfield. Despite turning 30 this year Shirokov has never looked fitter, the kind of player who will make a tackle in his own area, hurtle upfield and ten seconds later slot the ball into the opponents' net.
Increasingly Advocaat is building his team not around the creative impact of Andrey Arshavin - more often shunted out to the touchline these days - but around the workhorse Shirokov, a fact demonstrated by the two goals he has in his last three internationals.
That willingness to get forward has been evident with club side Zenit too, where Shirokov was instrumental in the club reaching the Champions League quarter-finals this season. He scored six times along the way, finishing as the club's top scorer in Europe and underlining his big-game mentality.
That mentality has its downsides, though, as a number of disciplinary scrapes have given Shirokov something of a bad-boy reputation in Russia. He's known as 'Mister Twitter' in his homeland, apt - much like Joey Barton - to use social media to vent his uncompromising views. Shirokov once famously referred to fans of rival club Spartak Moscow as "pigs", and to Slovakia's national side as "a bunch of farmers".
So while Russia-watchers will be keeping tabs on Shirokov's form on the pitch this summer, they'll have an eye on his Twitter feed too.