Czech player allegedly racially abused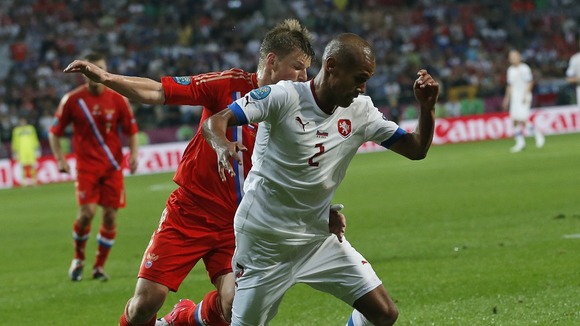 Czech Republic defender Theodor Gebre Selassie was the victim of monkey chants during his country's European Championship defeat against Russia, according to anti-racism campaigners.
The FARE (Football Against Racism in Europe) network today confirmed one of their observers at last night's Group A game in Wroclaw heard "fleeting" racist abuse of Gebre Selassie.
Asked if it included monkey chants, FARE chief executive Piara Powar told Press Association Sport: "Our observer reported descriptions of that nature.
"It was directed at the Czech Republic's only black player."
Powar said the abuse came from a "small section of the crowd" and admitted: "It may not be easy to pull together evidence for a case to be brought."
UEFA asked FARE to help appoint expert spotters to report offensive banners, chants and behaviour in stadiums.
Powar also confirmed "Russian Empire" flags were displayed during last night's game, which Russia won 4-1.
Yesterday was the second time in 48 hours black players were said to have been subjected to monkey chants in Poland after members of the Holland squad were racially abused during a training session in Krakow.
Violence also erupted at the Russia-Czech Republic game when a handful of stewards were attacked by large group of fans in a walkway inside the 40,000-capacity ground.
Footage of the incident has emerged online and UEFA said in a statement: "UEFA is aware that at yesterday's Group A match in Wroclaw between Russia and the Czech Republic there was a brief and isolated incident involving a small group of around 30 fans who attacked a handful of stewards.
"The situation was quickly and efficiently brought under control. The local police are aware of the incident and investigating.
"The cause of the incident is not currently known but we are studying the security reports and available images.
"UEFA remains entirely committed to the safety and security of all fans and spectators at all matches of Euro 2012."
Police spokesman Mariusz Sokolowski was reported by Eurosport to have said: "I can confirm that this happened at the stadium
"The attackers were from the group of Russian language fans. We are trying to identify them.
"Police have the security footage from the stadium. We are looking into it."
Reports claimed four members of stadium staff were taken to hospital and released later that evening.
The footage shows one steward left in a heap on the ground after being set upon by several assailants before the violence dissipated and he is helped to his feet, while another is kicked in the head while trying to evade a lone attacker.