France v England: Six conclusions
by Ollie Irish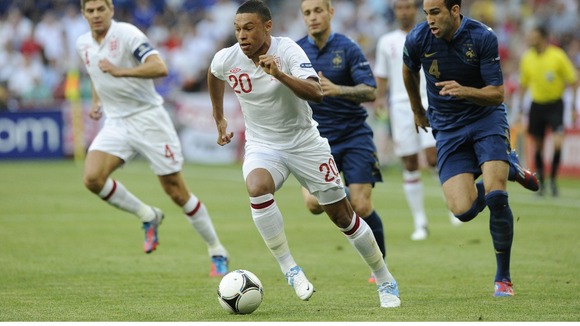 Alex Oxlade-Chamberlain is not the Messiah. The Ox did some good things, especially with his back to goal, but he also lacked discipline, positionally and once when he tackled dangerously - for his own team's chances in the Donetsk heat - with both feet off the ground. He will probably lose his starting place against Sweden - that's not a bad thing as he can do more damage coming on fresh in the second half.

Roy Hodgson is good for England. Selecting Oxlade-Chamberlain revealed in Hodgson a gambler's streak that was previously hidden. The gamble didn't really pay off, but credit the England manager for pushing out his chips in the first place; it will be interesting to see how Hodgson tweaks his starting team for the Sweden game. More than anything though, Hodgson's eloquence and modesty is proving a welcome change from previous regimes. As well as making England hard to beat, Roy has made the national team far easier to like.

Steven Gerrard wore the armband well. Gerrard was one of England's better players against France, giving a restrained and measured performance in the centre of midfield - not quite the marauding Gerrard we see in the Premier League. His dead-ball delivery for Joleon Lescott's goal was also terrific.

Joe Hart held firm. Hart has come in for a lot of criticism for not keeping out Samir Nasri's wicked shot, but most goalkeepers would have failed to save the shot, which flew through a couple of players with accuracy and speed - it was simply an excellent finish by Hart's Manchester City team-mate. Conceding such a goal might have spooked a young keeper - this was Hart's first start in a major international tournament, remember - but he regained his cool to make a string of key saves in the second half. Good signs.

France won't win Euro 2012. Several French players caught the eye going forward - Cabaye, Debuchy, Benzema and goalscorer Nasri in particular - but at the back Philippe Mexes and Adil Rami were ponderous, flabby even. Patrice Evra also looks past it. How France could use a centre-back with the effortless class of Laurent Blanc. Better teams than England should carve France open without difficulty.

A banned band can be a good thing. The officially naff official England Supporters Band, whose official theme tune should be That Joke Isn t Funny Anymore by The Smiths, was not allowed to bring its official instruments into the Donbass Arena on Monday. No Great Escape on repeat? Bliss, officially.