Russia point deduction threat a canny move by UEFA
by James Appell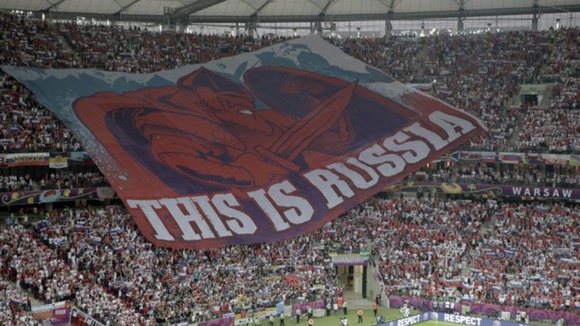 As punishments in international football go, UEFA's suspended six-point deduction for the Euro 2016 qualifying series handed to Russia for the now notorious events in Wroclaw on Friday is unprecedented in its severity. It's also a very canny piece of diplomacy by UEFA, writes James Appell.
On the one hand, they can appear to be dealing firmly with the bad behaviour of Russian fans, a fact welcomed by many in the game who are tired of seeing football's governing bodies stand idly by while all around are losing their heads.
On the other, they can be quietly confident that, even if future events meant Russia were to incur that six-point deduction - and, who knows, that could happen as early as the end of this week, when UEFA concludes its investigation into further crowd trouble in Warsaw before the Poland-Russia fixture, and the letting off of a firework following Alan Dzagoev's goal in that match - Russia's qualification for Euro 2016 would not be in jeopardy.
Euro 2016 will see the tournament's expansion from 16 qualified teams to 24, and while UEFA is yet to decide on the qualifying format, it's safe to say that at least the second-placed sides in each group, and perhaps even some third-placed sides, will reach the tournament finals in France.
By those measures, if you deducted six points from each of the teams who topped their groups in qualifying for Euro 2012 only Denmark would have finished outside the top two. Starting on minus six points would be at worst an inconvenience for Russia, rather than a crisis which many might assume.
Those who applaud UEFA for their stance on Russia should therefore ask whether the punishment will have any effect - and whether it fits the crime.