Sweden 2-3 England: six conclusions
by Ollie Irish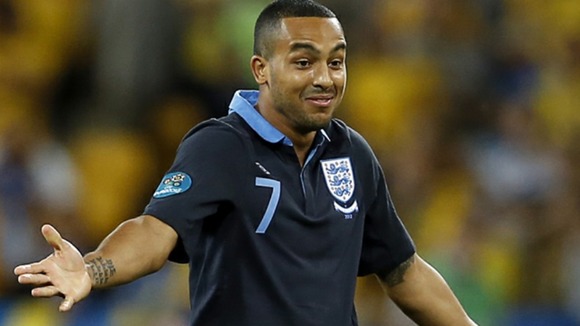 ITV.com Football Editor Ollie Irish looks back at England's dramatic 3-2 win over Sweden in Kiev, a night when several young players came of age.
Roy Hodgson knows
He dropped Alex Oxlade-Chamberlain and picked Andy Carroll, knowing that Sweden's defence has been vulnerable in the air. Carroll then opened the scoring with a textbook header. Hodgson's hasty decision to replace the ineffective James Milner with Theo Walcott also turned the game back in England's favour. Well played, Roy.
Danny Welbeck is the real deal
The 21-year-old Manchester United striker showed us a different side to his forward play in Kiev. Against France on Monday he played the role of the selfless target man, his back to the French goal most of the time, and he did it with skill and discipline. Against Sweden, when he had another striker alongside him, Welbeck changed his game – he ran dangerously into the channels, facing Sweden's goal, and in the end won the game with a superb improvised finish. Very few strikers of his age could play both roles so well.
Walcott: worth the wait
Theo Walcott was only 17 when Sven-Goran Eriksson picked him to go to the 2006 World Cup in Germany (on the advice of Arsene Wenger). Walcott didn't get off the bench once. Steve McClaren's England didn't qualify for Euro 2008 of course, then Walcott missed out on a trip to South Africa in 2010, a victim of Fabio Capello's hard line. Young Theo, now 23 and all stubbly (he'll never be grizzled), finally got his teeth into a major tournament 60 minutes into this game. And what an impact he made, scoring England's equaliser with a swerving shot and then setting up Welbeck for the winner. Some things are worth waiting for.
England's blue away kit is rubbish
It looks like a training kit, and a cheap training kit at that. However, the Three Lions have yet to lose when wearing it and results trump style every time. Still, it would be nice if Umbro pulled out the stops when designing the England kit, as Adidas always seem to do for Germany at major tournaments.
England have momentum
England tend to stumble zombie-like through the group stages of major tournaments, never gaining confidence and the valuable momentum that comes with it. But at these Euros they have followed up a solid draw against a dangerous team with a ballsy comeback win against a bogey team. It makes a change. The next trick for Hodgson and co. is to beat a wounded Ukraine side on Tuesday. The return of a certain player from suspension should be an extra shot in the arm...
Rooney must return
England are not so good that they can afford to leave Wayne Rooney out from the start against Ukraine. Roy Hodgson has confirmed that the Man Utd talisman will start on Tuesday, as he has served his two-match suspension, but who does he leave out? Both Andy Carroll and Danny Welbeck were terrific against Sweden, while wingers James Milner and Ashley Young had poor games. Perhaps Roy can find a way to accommodate Rooney, Carroll and Welbeck in the same team? It would be an incredibly bold move, but Ukraine's defence is its weak point.