Arshavin no longer the golden boy of Russian football
by James Appell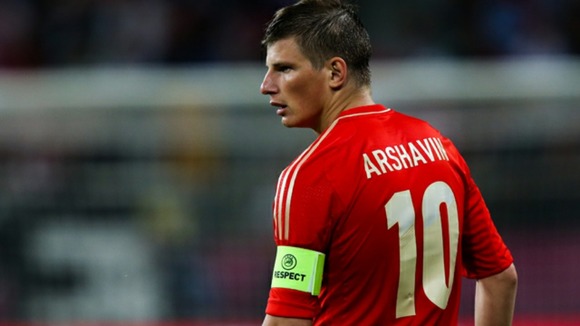 ITV.com's Russian football expert James Appell examines the wreckage of Russia's disappointing Euro 2012 campaign and the part their captain Andrey Arshavin played - or didn't play - in it.
Russia's rollercoaster trajectory through Euro 2012, from the high of an opening-day 4-1 win over Czech Republic to the crushing low of elimination at the hands of Greece, was reflected in microcosm by the fortunes of their captain Andrey Arshavin.
Arshavin was by many measures the hero of that win over the Czechs, laying on two goals and leading by example with some exquisite attacking play which brought to mind the player we dimly remembered Arsenal paying £18million for.
But a lacklustre second half in Russia's match against Poland, after which he complained of tiredness, and a wasteful performance in the defeat to Greece was a reminder to all of us that Arshavin's rare talent is rarely consistent.
If, as captain of a side which so underperformed at this European Championship, Arshavin was expected to shoulder a good deal of the blame, he only made matters worse in the immediate aftermath of Russia's elimination in Warsaw.
Having returned with the squad to their base at the Hotel Bristol in Warsaw's Old Town, Arshavin got into a late-night argument with a Russian fan in the lobby. "The fact that we didn't live up to your expectations isn't our fault," Arshavin angrily told him. "It's yours."
Those comments have acted as a red rag to a bull in Russia, a country where Arshavin is not only idolised as a player but earns a fortune from endorsements, in part handed to him because of his popularity. Already some wags on Russian internet forums had signed off Arshavin's performances at Euro 2012 by saying: "Ah well, back to selling potato crisps then." (Arshavin is famously the face of the Lay's brand.) After the hotel set-to, however, those sarcastic shrugs have been replaced by genuine anger at the player's arrogance.
"A man who allows himself to speak like that should not have been given the captain's armband," former Russia international Aleksandr Mostovoi commented in response. There is a groundswell of opinion that Arshavin will not only lose the captaincy, but may not even play for Russia again.
"Arshavin is a lout and a boor," another former international, Valery Reingold, added more forcefully. "If he'd had a coach like [ex-USSR striker] Viktor Ponedelnik he'd have given him a kick where it matters and sent him back to Arsenal, or wherever he plays."
And so indeed to Arsenal, where Arshavin now returns more unloved than ever. While his brief loan spell with hometown club Zenit St Petersburg came with a modicum of success - and a championship winner's medal - it's hard to see the club coming back for him on a permanent basis, particularly with their squad showing signs of age. Another Russian club may take a chance on him, but both on and off the field he is now more of a liability than ever.
Could Arsenal find a place for him this year? Arsene Wenger is a patient man, but surely even he must have given up on the player. And so, at 31, showing talent only fitfully and barely fit enough to complete 90 minutes (he has done so at club level only twice in 2012), one wonders what new lows may afflict Russia's former Golden Boy.