Blanc draws positives from defeat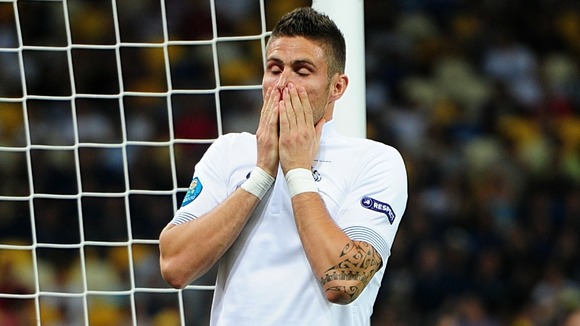 France coach Laurent Blanc remains optimistic despite defeat to Sweden which left his side to face Spain in their European Championship quarter-final.
Les Bleus were beaten 2-0 by the already eliminated Scandinavians, allowing England - who beat co-hosts Ukraine 1-0 - to snatch top spot in Group D and earn a last-eight meeting with Italy rather than the reigning world and European champions.
But Blanc said: "We are disappointed of course, we wanted a different result, but the most important thing is we qualified for the quarter-finals. Even though Sweden played well, they are going home tomorrow.
"We need to stay optimistic, we didn't make things easy for ourselves. It is not the easiest thing to play Spain at the moment, we have to be rested and need a really good performance to beat them.
"But we are going to focus and are going to fight. Tomorrow will be more optimistic than tonight and I hope by Saturday we will be at a higher level."
Reflecting on tonight's match, when goals from Zlatan Ibrahimovic and Sebastian Larsson condemned his side to defeat, Blanc said: "We were weak in certain areas of the pitch, too weak in the tackle.
"Sweden put everything into the game, they were better prepared physically and they have a player [Ibrahimovic] who can make the difference - a lot of factors that meant we couldn't win.
"I don't think we struggled going forward, we struggled at the back and in midfield. Sweden had a big physical impact. We hoped in the second half their intensity would drop but that wasn't the case.
"We conceded a lot of space but we also created a lot of chances so we could have had a 1-1, a 2-1 or even a 2-2."
Opposite number Erik Hamren was proud of his side's efforts on the night but disappointed to be departing the tournament at this early stage.
"Right now I have quite mixed feelings," he said.
"We should be content after today's victory, we were up against a strong team, because they hadn't been beaten in 23 games. This shows what we were up against.
"We gave an incredibly good performance. We created a small margin which we perhaps didn't in the matches before, and you need those in order to win matches.
"So it's happiness and pride for this particular match. It's good for our self-respect and for the fantastic fans. Still, there also is some sadness in all of us, because we feel we really wanted to stay in the tournament a while longer.
"Our ambition was to go further, but now we've not made it, that of course hurts a bit. But we already knew that before this match, which makes it an even greater accomplishment that we have given it this much.
"We have really enjoyed our stay in Kyiv, with a fantastic hotel and people. It was like leaving friends today when we left the hotel. We are disappointed we have to leave, but that's life."