Bonucci: Mario is his own man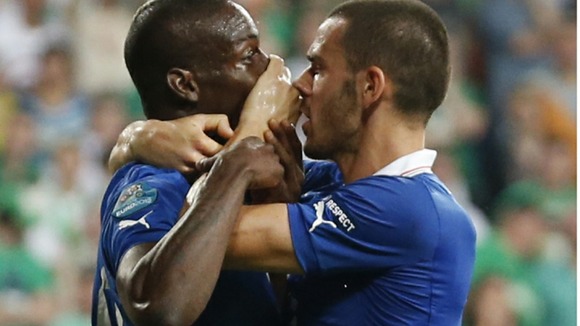 Italy defender Leonardo Bonucci is coy about being nominated as a mentor to Mario Balotelli in the build-up to Sunday's European Championship quarter-final against England.
Bonucci has found himself cast as Balotelli's minder since putting his hand over the striker's mouth during the Azzurri's decisive Group C win over Republic of Ireland.
Balotelli looked to be shouting something at the Italy bench after responding to being dropped by scoring as a substitute in Monday's 2-0 win.
Juventus centre-back Bonucci claimed the firebrand striker was speaking English and he did not understand what was being said but decided it was better to silence him.
Like Balotelli, Bonucci has been dogged by controversy this season, having been caught up in the latest Italian match-fixing scandal.
The 25-year-old, who denies any wrongdoing, kept his place in Italy's Euro 2012 squad when others under investigation were left at home.
Bonucci has managed to put his troubles to one side in Poland and Ukraine, starting his country's first two games at the tournament and coming off the bench in the third.
Asked if that made him an example for Balotelli to follow, he said: "We are two different people. Mario's spontaneous, a young guy.
"But we also had different experience. We had different lives, so you can't really compare players in this way."
Bonucci revealed Balotelli thanked him after Monday's game for halting what may have become a "a worse situation".
"Yeah, he said to me thank you for what I did," Bonucci said. "Now he has to be calm and to do his best on the pitch."
Were he to manage that, Balotelli would almost certainly represent the biggest possible threat to England on Sunday.
Bonucci said: "Physically and technically, he can be very dangerous to the England team.
"I don't know yet if he can be in the starting line-up because this is our manager's decision.
"But, if he trains in the proper way, I think he can really be useful to beat England."
The Manchester City forward also has a unique insight to England's team, all of whom he has played either alongside or against.
"In terms of Balotelli's information, of course he knows them very well," said Bonucci, who insisted the 21-year-old was gelling with his Italy team-mates.
"Yesterday, for example, he was smiling, he was joking with [Antonio] Di Natale. This is our team spirit.
"Balotelli, when he plays as he played against Ireland, he really can make the difference."
Video player: Mario Balotelli volleys home against Ireland.
England have their own maverick in Wayne Rooney, who Bonucci will be charged with silencing in a different way on Sunday.
"We've started to scout him," Bonucci said. "But England are made up of top-class players. It's not only Rooney.
"They improved a lot over the last two years."
Those two years were mainly overseen by Fabio Capello, who controversially quit just four months out from Euro 2012.
"England have become more like an Italian team thanks to Capello and other Italian managers in the Premier League," Bonucci said.
"England are defending better, can play on counter-attacks."
However, Bonucci warned Italy were still the masters when it came to their own brand of football.
"We've been playing probably better so far," he said when asked to compare the two teams.
Bonucci would not be drawn on whether he feared missing Euro 2012 after being drawn into the match-fixing investigation but admitted it might have the same effect as similar scandals in 1982 and 2006, when Italy won the World Cup.
He said: "Not only in terms of football, Italian people when they have some difficulties are very good at overcoming them."