Van Marwijk will have Dutch successor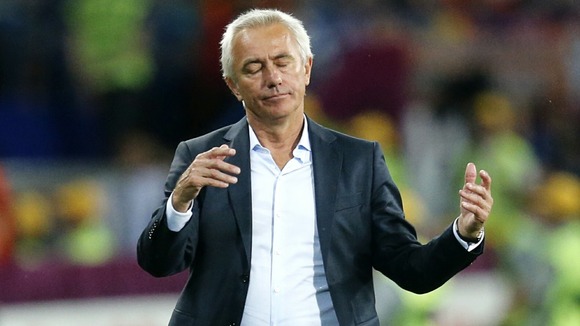 Speculation is already rife over who will replace Bert van Marwijk as Holland coach and there are no shortage of candidates.
Van Marwijk yesterday stood down from his role following a disappointing Euro 2012, in which which Oranje were knocked out at the group stage after losing all their matches.
The candidates to succeed the 60-year-old include Ronald Koeman, Ruud Gullit, Frank de Boer, Guus Hiddink, Louis van Gaal, Co Adriaanse and Frank Rijkaard.
The chairman of the Dutch FA (KNVB), Bert van Oostveen, has already indicated that whoever steps into Van Marwijk's shoes must be from Holland.
When asked whether Holland would look to appoint a foreign coach, Van Oostveen told AD: "It would be a travesty for the image of our national football."
Van Gaal, Rijkaard and Hiddink have taken charge of the national team before, although the latter's tenure ended in disappointment after Holland failed to qualify for the 2002 World Cup in Japan and South Korea.
Gullit is not renowned for being an outstanding head coach, with disappointing spells at Feyenoord and Los Angeles Galaxy recently, but the 49-year-old had a glittering playing career, which could make him a popular choice.
Former Twente boss Adriaanse is unemployed but could be a viable option because he prefers to play attacking football, with his methods guiding unheralded Dutch club Willem II into the Champions League in 1999.
Feyenoord coach Koeman and Ajax's De Boer have already ruled themselves out of the running, with the latter paying tribute to Van Marwijk.
The former Ajax and Barcelona defender served as Van Marwijk's assistant at the 2010 World Cup.
"It is unfortunate for the Dutch team that Bert has quit. I had a great time with him and learned a lot from him," De Boer said on his Twitter account.
It has been suggested that De Boer's absence from the coaching set-up is the reason for Oranje flattering to deceive in Poland and Ukraine.
He rejected the notion, however, hinting the success two years ago came because egos did not clash in South Africa.
"I had my share during the successful World Cup, but it is not all about me," he said at an Ajax press conference yesterday.
"In 2010 it was all easier. When (Rafael) Van der Vaart and (Klaas Jan) Huntelaar played in their little clubs.
"Now you have influential players in the Premier League and the Bundesliga. That makes it all a lot harder."
The European Championship failure prompted the KNVB to hold a number of meetings with Van Marwijk about what went wrong.
And the coach opted to leave his post last night - albeit reluctantly - a decision which was accepted by the governing body.
"I have severe doubts, but have decided to take this step anyway," Van Marwijk said in a short statement.
Van Oostveen, added: "The KNVB are grateful to Van Marwijk. He has performed exceptionally well in the World Cup finals and took them to first place in the FIFA rankings.
"I personally had a very good feeling about our co-operation.
"Of course it is sad to part early, but we must be realistic."
Van Marwijk, who has previously held the reins at Feyenoord and Borussia Dortmund, took charge of the national team in 2008.
The KNVB will hope to to have a new coach in place before their friendly against Belgium on August 15 and the start of their 2014 World Cup qualifying campaign.