John Terry stands trial for alleged racist abuse against Anton Ferdiand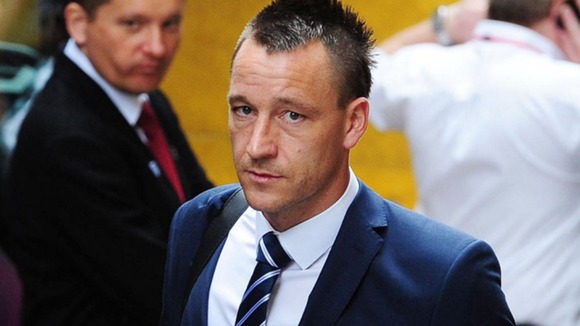 England footballer John Terry called Anton Ferdinand a racist obscenity in response to taunts about his alleged affair with a team-mate's ex-girlfriend, a court heard today.
The 31-year-old Chelsea defender allegedly called Ferdinand, who plays for QPR, a "f****** black c***".
Terry is accused of a racially aggravated public order offence during a Premier League match on October 23 last year, which was broadcast to millions of people.
Appearing at Westminster Magistrates' Court today, Terry sat in the dock wearing a light grey suit, white shirt and pink tie.
The court heard that Terry told Ferdinand to "f*** off" and also called him a "f****** knobhead" as the pair exchanged insults.
Opening the prosecution today, Duncan Penny said: "The Crown alleges that the words he used demonstrated hostility based on Mr Ferdinand's membership or presumed membership of a racial group."
The court heard that Terry maintains he was only sarcastically repeating words that Ferdinand wrongly thought he had used.
Mr Penny said: "The Crown alleges that the defendant, most probably in response to physical gestures being made by Mr Ferdinand which the defendant understood to refer to the well-publicised allegation of an extra-marital affair with a team-mate's wife, shouted at Mr Ferdinand."
He went on: "The Crown's case is that the words were abusive and insulting in a straightforward sense and that the term 'f****** black c***' was uttered as an abusive insult demonstrating hostility based on Mr Ferdinand's membership of a racial group.
"They were uttered by the defendant in response to goading by Mr Ferdinand on the issue of his extra-marital affair, rather than by way of exaggerated and instant querying of a perceived false allegation."
Terry was allowed out of the dock into the well of the court to view footage of the alleged insult.
The case is being heard by Chief Magistrate Howard Riddle, and there is no jury.
Both television clips and unbroadcast footage of the incident, which would normally be used for training purposes, were shown to the court.
It is claimed that Ferdinand said something about "shagging ya mate's missus" and made fist gestures, before Terry responded.
The court was told that Chelsea team-mates Ashley Cole and John Mikel Obi were nearby when insults were traded, but they will not be called as witnesses as part of the prosecution case.
Terry said in a statement to the Football Association five days after the incident that he and Ferdinand had been exchanging "verbals" and he had made a gesture to imply Mr Ferdinand had bad breath.
He said: "We're still having a, sort of, ding-dong, if you like. That's when, as I said before, he said 'black c***'.
"Now clearly, as I said before, I don't think he's calling me a black c***, but at the same time I take quite a strong offence."
The England defender said he was not offended by the taunts about the alleged affair with Wayne Bridge's ex-girlfriend, because "it's not the first time I've heard it, so it's with a pinch of salt a little bit now".