Winger returns to Portuguese club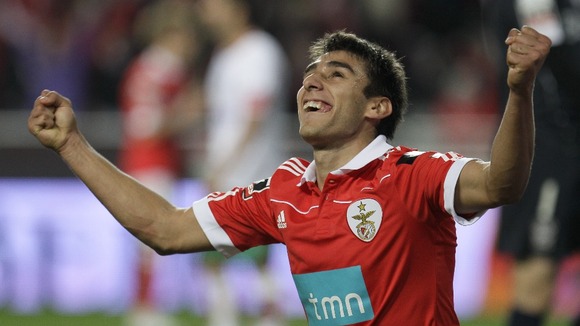 Argentina winger Eduardo Salvio declared himself "back home" after completing his transfer to Benfica from Atletico Madrid.
The 22-year-old, who spent the 2010-11 campaign on loan at the Stadium of Light, has joined last season's Portuguese Liga runners-up for an undisclosed fee on a five-year contract, which contains a buy-out clause starting at 60 million euros.
"Eduardo Salvio is the latest enhancement to the SL Benfica football team," a club statement read.
"The player, 22, is returning to a club he knows very well.
"After having represented the club on loan in the 2010-11 season, Salvio has now signed a contract for five years. The termination clause of the Argentina international is 60million euros."
Salvio, who arrived in the Spanish capital in 2010 from Argentinian club Lanus, told Benfica TV: "I never stopped being a 'Benfiquista'. I took the club to my heart and I feel I am back home."
Recalling his time with the club the campaign before last, he added: "I remember it was a great team who played excellent football. We always went out on the field looking to win.
"This year we have a team capable of fighting for big things. The fact that the same coach [Jorge Jesus] is here is a help. The squad has not changed much, which is good as I remember my former team-mates.
"I have grown in terms of being a player and a person. But I have not changed much and I will do my best to support the team.
"I want to win titles and play in the Champions League. It's also good to play for a big club. This makes me very happy."