Coleman: Reds' Allen signing a coup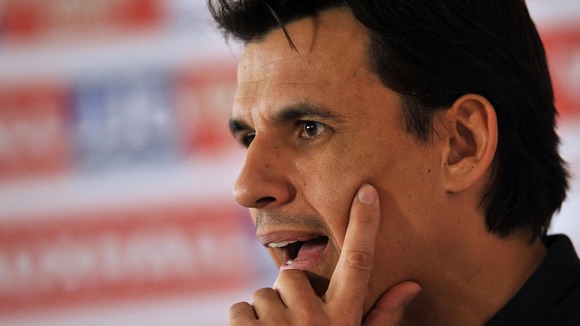 Wales boss Chris Coleman has no doubt new Liverpool signing Joe Allen will prove he is worth every penny of his big-money move to Anfield.
The 22-year-old's switch to Merseyside, for a fee believed to be £15million, was confirmed yesterday evening, just hours after he was named in Coleman's squad for Wednesday's friendly against Bosnia-Herzegovina in Llanelli.
Allen was an assured and hugely impressive presence during Swansea's maiden Premier League campaign.
But there are plenty who have queried Liverpool manager, and former Swans' boss, Brendan Rodgers' decision to part with so much money to secure the services of the Wales international.
However, Coleman believes that if Allen had made the switch from a club more firmly established in the Premier League than Swansea, very few eyebrows would have been raised at the fee.
"If you look at some of the fees that are being paid now, I'm not surprised," he said.
"Who in the Premier League does that job better than Joe?
"The way Brendan wants to play and the way Liverpool play, passing the ball around, he is one of the best short passers around.
"He is always available, he's very brave on the ball and I think he's a great signing.
"I would pay that for him no question.
"I think he will surprise the Liverpool fans.
"Big teams have bought big players before and it has not worked because of their reputations.
"We all know who Joe Allen is, but he's not come from Villa, or Newcastle, or a big recognised club, it's Swansea City and they have only been there a year.
"But the type of football he plays and the type of football you associate with Liverpool I think he is ideal."
Wednesday's friendly is Coleman's last chance to prepare for the upcoming World Cup qualifying campaign; Wales start against Belgium in Cardiff on September 7.
And Coleman, who started his playing career with Swansea, believes Allen's move to Liverpool further strengthens his squad as they attempt to become the first Welsh side to reach a major finals since 1958.
"It's got to be good for us, another player at a big club and we've got to get as many players in the Premier League as we can," he said.
"It's not just about the starting 11 for us because our fight to qualify is for two years.
"If we had 25 players all playing in the Premier League then good but we can't. We know keeping the same 11 fit for two years will be hard for us."
With the latest round of friendlies coming just three days before the Premier League kicks off, Coleman may find himself inundated with calls from managers looking to limit their involvement in Wednesday's fixture.
Given the fee Rodgers has paid for Allen, the Northern Irishman could be among them, but Coleman says he would give short shrift to any request.
"I'm not expecting a phone call from Brendan, and it won't be welcome," he said.