Category one boost for Manchester City's academy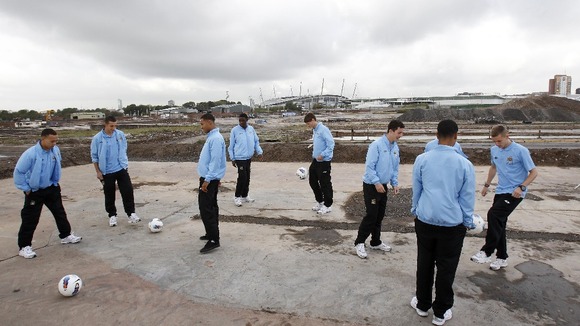 Manchester City's academy has become one of the first to gain category one status under the new Elite Player Performance Plan.
The obvious consequence is straightforward. City, along with a few others, will no longer be constrained by the 90-minute rule when it comes to recruiting the best young players.
What makes it so significant for City are their plans for a £100million state-of-the-art academy over the road from the Etihad Stadium.
Ultimately, that would mean Sheikh Mansour is not required to keep dipping into his vast cash reserves to fund the Blues squad, turning them back into a more conventional club again, just at an altogether higher level.
"One's a sprint, the other is an endurance race," said academy manager Mark Allen.
"From a first-team level it is about today's result and a quick turnaround, week by week.
"The academy, from nine to 18 is a long-distance thing.
"It is not a five-minute project. It won't bear fruit for some years."
City are confident it will. In fairness, the club, under the expert guidance of Jim Cassell, was renowned for bringing players through the youth ranks.
In excess of 20 made the first-team, amongst them Shaun Wright-Phillips, Micah Richards and Joey Barton.
But developing players to feature in team with title and Champions League ambitions is a completely different thing.
"Manchester City has, and always will, produce players capable of having good football careers. That will not change," said Allen.
"But we need to understand the level of player we are trying to produce.
"I don't see it as pressure. It is just obvious in terms of where any sustainable business needs to go."
The plans have been thoroughly thought through, even to the facility for players to attend a local private school from the age of 14, allowing them to combine their football with an education that allows them to pursue alternative careers if necessary.
Although there are plenty who oppose the new systems, the bigger clubs put forward their own argument that as they employ better coaches, it gives more youngsters a chance of fulfilling their potential.
"If you are a top class musician, you are not confined to seeing the best teacher within a 90-minute radius. Why should football be any different," said Allen.
"British cycling is the same. The talent comes from everywhere. The location is Manchester."
As cycling is very much in vogue given their performances at the Tour de France and Olympic Games, Allen is happy to draw on the comparisons.
"If you look at all four corners of development in a footballer, it is technical, tactical, physical and mental," he said.
"The cyclists are excellent in all four.
"They have the best coaches, the best sports scientists, the best physicians, the best psychologists.
"They have put all that together with the best talent and look what happened.
"We like to think the joining of those two things can be good for us in the future too."
In championing Abdul Razak and Luca Scapuzzi as eager youngsters named on City's recent pre-season tour, Allen does not make a particularly compelling case for the current academy crop.
However, he points to the famed Barcelona model as evidence of what the eventual target is.
"What you hope is that along the way one or two start to break the mould," said Allen.
"Messi, Xavi and Iniesta were all young boys in an academy at some time when Barcelona weren't winning things.
"But it was a project.
"We will lose games for development. We will not put our best players out sometimes because we want to put younger ones in to test them.
"We played Rhyl the other night and ended the game with four 15-year-old players in a game against men and won 2-0.
"That is the perfect story. But the biggest thing was those four lads coping with it in front of 1700 people.
"We must remember that is what the academy is all about - development, development, development.
"Yes it is nice to win but it is not the most important thing."