Hodgson hopes Terry will be part of England's future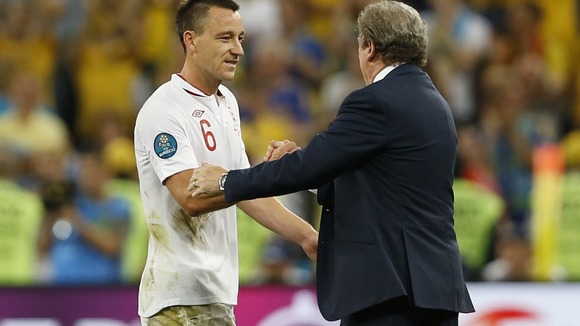 Roy Hodgson hopes he can carry on picking John Terry for England.
Terry was one of the Three Lions better performers at Euro 2012, since when he has been cleared of a racially aggravated public order offence by Westminster Magistrates Court.
However, he is now facing an FA charge as a result of his altercation with Anton Ferdinand at Loftus Road in October, which could have a significant impact on his international ambitions if he was found guilty.
Hodgson will have no say in the disciplinary process, which it has been suggested may not be resolved until the end of next month.
However, in comments that will leave him open to the accusation of influencing the disciplinary panel that sits in judgement, Hodgson last night said he hoped Terry clears his name.
"I'm not prepared to discuss John," said Hodgson initially.
"It's a matter which is really, as far as I am concerned, working for the FA, subjudice.
"Everything I say can be misinterpreted.
"As far as I am concerned he has a case to answer with the FA and I'll wait and see what happens."
Asked about his previous comments in an interview with Sky Sports News last Friday, Hodgson went on: "I'm hoping, and I make no secret of that, the case will take its course, that John, hopefully, will be freed as he was freed in a court of law, and will carry on playing for England.
"That's my hope. What will happen, I have no idea.
"As a member of the FA, it's a subjudice situation and I'm not prepared to say any more.
"I thought John did well in the Euros and I'd like to keep using him, but this is a case which is way out of my hands. John understands that.
"All I can do - like many of his supporters, I suppose - is just hope he gets freed and can continue to play."
Considering he twice referred to the sensitivities of the matter, it is remarkable Hodgson went so far. It will hardly go down well with the Ferdinand camp.
The reasons for Rio Ferdinand's omission from the Euro 2012 squad were questioned by the player's representative Jamie Moralee in May, when he told Press Association Sport the decision was "nothing short of disgraceful".
Hodgson has continued to insist Ferdinand did not go to Poland and Ukraine for football reasons and the Manchester United defender, whilst not retiring from England duty, believes his England days are at an end.
Frank Lampard urges Chelsea to act as he waits for new contract