Slade proud after Orient's penalty triumph at Charlton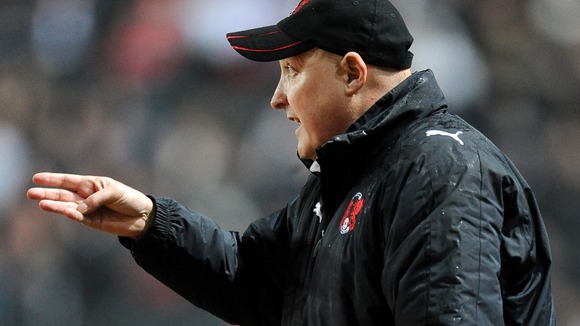 Leyton Orient boss Russell Slade was proud to see his battling npower League One side enjoy a stunning 4-3 penalty shootout triumph at Charlton.
Charlton led through Scott Wagstaff's first-half opener, but their opponents were back on terms just before the break thanks to Mathieu Baudry's header.
Former Charlton striker David Mooney missed an early second-half penalty and the game went into extra-time and then the shootout.
Johnnie Jackson and Lawrie Wilson missed the first two for Charlton and although Ben Chorley also failed to convert one of Orient's spot-kicks, the visitors went through thanks to Ryan Brunt's decisive strike.
"I'm really proud to be honest, the attitude was excellent," Slade said.
"It is not an easy place to come Charlton and to go a goal down makes it even more difficult.
"I thought we were a bit unfortunate to go a goal down to be honest. We should have been trying to stick one in the other end and they've broken and it has taken a wicked deflection off Gary Sawyer and gone in the net.
"But heads didn't drop and I'm really proud that we stayed in the game and kept going, missed a penalty, but in the end we sneaked through on penalties.
"On reflection I think it would have been a bit disappointing if we had not got something out of it.
"It's never easy on penalties, at Orient we don't win them.
"The last shootout we had I think was against Dagenham & Redbridge, which I think we lost 14-13, so it's nice to come out on top this time.
"What I didn't see was any heads go down, I saw a terrific attitude.
"We won a lot of second balls, we stood strong and we kept going.
"That is something I like to see in my sides because over the season I think you need to grind results out and we showed an attitude to do that."
Charlton manager Chris Powell questioned why the game had gone ahead before this Saturday's opening Championship game at Birmingham.
Powell said: "I think it's a crazy decision to be playing a game like this before your first league game and I would say that whether we won or lost.
"We could have done without it, so could have Orient and a lot of other teams.
"It's a bit of a crazy move that there are internationals and cup games before your league programme, and that goes for all 92 clubs.
"I'm sure they will have their valid reasons why, but it is just one of those things.
"I think every club up and down the land should have a clear week going into their first game.
"I'm disappointed we are out, really disappointed because we've seen recently Championship clubs get to the final.
"Cardiff got there last year and it would have been nice if we'd had a go."
Scunthorpe boss Alan Knill stunned by 5-5 draw and penalty triumph at Derby