Pardew sorry for 'stupid moment'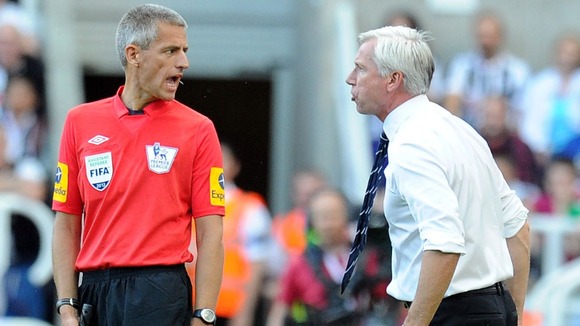 Newcastle boss Alan Pardew hailed Demba Ba's first strike since February and issued a heartfelt apology for his own breach of post-Olympic spirit as the Magpies started the season with a 2-1 home win over Tottenham.
Ba's curling opener from the corner of the box in the 55th minute lit up a tough but low-key encounter and sparked the late drama in which Jermain Defoe bundled a 76th minute equaliser and Hatem Ben Arfa slotted a penalty winner four minutes later.
The excitement was too much for Pardew, who despite urging his players to keep their cool in his programme notes, lost his own when confronting the linesman over a touchline incident and was sent to the stands.
Pardew said: "There's me telling my players to behave themselves and follow the Olympic spirit and be humble, and they did it except for me.
"It was a stupid moment - the linesman just happened to be standing right in front of me when I thought the ball was out, and I gave him a little shove. I have apologised and I can't turn the clock back, so I will have to take my punishment."
Pardew singled out the performance of Ba, whose contractual situation has left his Magpies future in doubt, insisting the player has always remained at the forefront of his plans despite his long spell without a goal.
Pardew added: "It probably was important for Demba but only in terms of goalscoring. He has been brilliant for us when we have asked him to play on the side and he has done it again today and come up with a goal.
"It was the first game of the season today and I think it just showed that sometimes it is character and spirit that can win through. We had to match what Spurs were doing, we changed things at half-time and I thought we just about edged it."