Di Matteo up for the Super Cup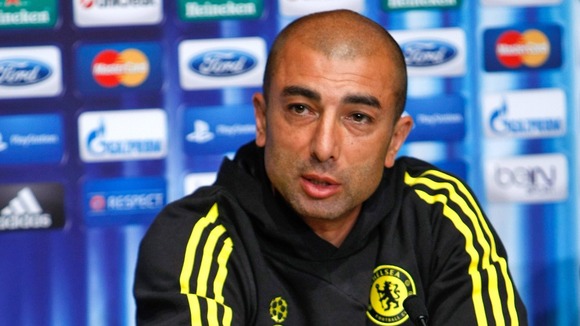 Roberto Di Matteo today admitted Chelsea's UEFA Super Cup clash against Atletico Madrid had brought back memories of his two greatest triumphs with the club.
Di Matteo will return to the scene of the Blues' famous 1998 Super Cup win over Real Madrid at Monaco's Stade Louis II tomorrow night, where he starred in midfield 14 years ago.
A second crack at the trophy only became possible after the Italian led Chelsea to the first Champions League crown in their history in what was their most recent European outing against Bayern Munich in May.
"The consequence of that night in Munich is this," Blues boss Di Matteo said this afternoon.
"We shouldn't forget how hard it was to get here - a long road, difficult draws, and we suffered a lot to win it and be able to play this game.
"It's a European trophy. I feel very strongly about it. Hopefully, we can win it again.
"It was 14 years ago, a long time, and it would be just nice for us to be able to continue this positive start to this season."
Chelsea arrived in Monaco top of the Barclays Premier League thanks to a hat-trick of wins at the start of the campaign.
Di Matteo added: "I'm pleased with the start we've had, and the way we've been playing.
"We have some players that we need to integrate, and they have to adapt their qualities a bit to our team and our shape. But there's still a lot of space for improvement for us.
"It's always good to have a good start. That brings a lot of confidence to the players and the team, and the belief you can have a good season.
"But we need to continue to work a lot to finish at the top."
Atletico boss Diego Simeone declared Chelsea favourites for the match but Di Matteo said: "Atletico Madrid are a very good team.
"They've started the season in good fashion, have a lot of quality and players, a good coach and manager, and we'll face a challenge tomorrow night.
"Hopefully, we can bring the trophy home after 14 years."
Di Matteo refused to reveal whether there would be any more comings and goings at Chelsea before the transfer window ended, claiming Yossi Benayoun had not travelled to Monaco because he had been ill.
However, the winger who spent almost all of last season on loan at Arsenal, posted on Twitter this morning: "I can confirm that I'm in talks with two premier league clubs about a loan move, hope to sort it by tomorrow evening."
The UEFA Super Cup between Chelsea and Atletico Madrid is live on ITV1 and Online on Friday from 7.30pm