Liverpool manager acknowledges lack of depth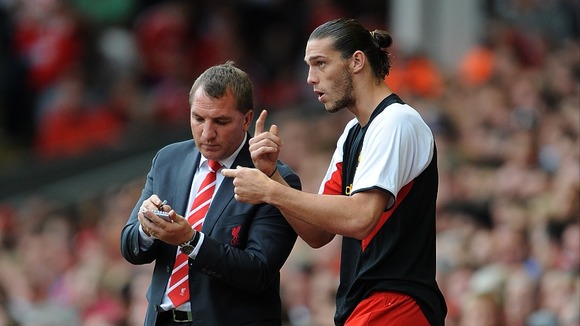 Liverpool manager Brendan Rodgers has admitted he would never have let Andy Carroll join West Ham had he known the Merseysiders would not get a replacement.
Rodgers released Carroll on Thursday night thinking Clint Dempsey would arrived from Fulham before the transfer window closed on Friday.
However, Liverpool failed to match Fulham's demands for the United States international and after trying to increase the bid by adding players into the mix, Dempsey instead opted to join Tottenham.
It has left Liverpool chronically short of strikers.
Rodgers did not have an orthodox forward on the bench for this afternoon's 2-0 home defeat by Arsenal and is now left to consider moves for the likes of Michael Owen, who is out of contract, and Didier Drogba, whose contract situation at Shanghai Shenhua could allow him to sign for another club.
"No," said Rodgers when asked whether he would have let Carroll leave, then "very" when quizzed about how confident he was of getting in a replacement.
And for the likes of Owen and Drogba?
"I can't say no. Any player I believe can improve the squad, I will look at," he said.
"We have a very small group. We had 19 training yesterday. It is something that would have to be discussed."
Today's result condemned Liverpool to their worst start to a season since 1962-63.
It was hardly the best way to mark Bill Shankly's 99th birthday, although Rodgers tried to put on a brave face.
"I am not here to cry," he said.
"Whatever has happened, I wouldn't change it for the world.
"I am very proud to manage this club. I have made it my life.
"I felt we needed reinforcements. That is the reality. But it is gone now. The window is shut.
"We have to concentrate on the players who are already here."
Rodgers spoke with the Liverpool hierarchy about what went wrong, but he is refusing to pin any blame on owner John Henry.
"There is no doubt the finances here had to be changed," he said. "That was the reality.
"We have lost nine players and brought in three. From a business side the club has done well.
"What we have to do in the future is look after the football side.
"Hopefully in the next window - and the ones after - we can transition a group that allows us to compete.
"But it is a learning process for the owners as well. They invested £100million into the club and then changed one of the most iconic figures at the club.
"They made a big commitment to have me here for the longer term and have been very up front with me.
"There are one or two things we need to iron out. If we do that it will help us in the next window and the ones after. But they have not misled me."
With Fabio Borini and Daniel Agger failing to take decent chances, Liverpool were ripe for a counter-attack.
The sucker punch duly arrived when Santi Cazorla led a break that ended with Lukas Podolski driving home the Gunners' first goal of the season.
Liverpool briefly threatened a reply after half-time, but ran out of ideas and the excellent Cazorla profited from Pepe Reina's mistake to wrap up victory.
"Everybody understood quickly Cazorla would not need six months to settle," said Gunners boss Wenger.
"Lukas Podolski is deadly when he gets a chance. I am pleased for them."
Wenger also confirmed he was hopeful Jack Wilshere would be fit to make a comeback within a month after over a year out with an ankle injury.
"Jack is looking very good in training. We will give him a month. Then he should start to play," he said.