Ten-man Barnsley beat Bristol City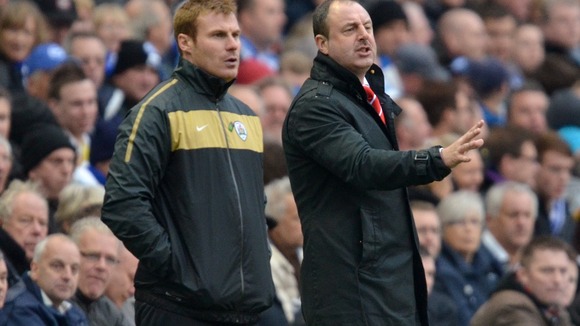 Barnsley assistant manager David Flitcroft was impressed with his side's 1-0 victory over Bristol City as they finished the game with 10 men following the dismissal of Bobby Hassell.
Jacob Mellis scored with a rare header as Barnsley took all three npower Championship points.
"It was a dominant performance for the first 60 minutes; they couldn't handle our shape in the first half," claimed Flitcroft.
"The only thing that disappointed me about the first half was that we were not finishing our chances off. We controlled and dominated the game."
Flitcroft added: "I didn't think it was Jacob who scored it because it was a header and he doesn't score headers.
"He is going to be dangerous for us. He can support players who can score goals. He is getting fitter and fitter and if continues to perform like he is then the sky's the limit for him."
Barnsley went down to 10 men when Hassell was sent off for the first time as a Barnsley player for a two-footed tackle on City striker Jon Stead.
Flitcroft admitted: "It was the correct decision. In the first half Bobby was outstanding. Then some red mist came over him. He had a poor first touch and then he took the lad out.
"It's a definite red card and we have no qualms about it."
Flitcroft added: "At the end we had 10 injured players celebrating on the field and that togetherness is going to take the team forward and hopefully we will get the rewards."
Bristol City manager Derek McInnes was frustrated with the result and disappointed with his side's first half performance.
He said: "We knew that Barnsley weren't going to make it easy for us, in the first half we were struggling and we were fortunate to go in at half-time 0-0.
"At half-time we changed it to 4-3-3. The goal we give away was a cheap one and it galvanised them."
McInnes agreed with Flitcroft about the dismissal of Hassell.
He said: "I thought the ref got the sending off right.
"As the second half went I thought we played better and we should have had a penalty late on when Martyn Woolford's glancing header looped over the keeper and was handled on the line. But the ref didn't give it.
"He made two big decisions today; he got one of them right and the other one wrong.
"On another day we could have scored two or more but full credit to Barnsley who worked hard to get the three points. But we worked hard as well and we get nothing."