Petkovic will miss Gascoigne at Spurs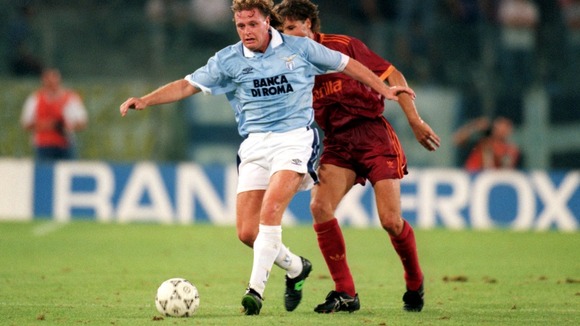 Lazio manager Vladimir Petkovic is sad to hear Paul Gascoigne cannot attend Thursday's Europa League game against Tottenham at White Hart Lane and hopes the troubled star will be able to make the reverse fixture between his two former employers in November.
Gascoigne joined Lazio from Tottenham 20 years ago and became a cult hero in the blue and white half of the Italian capital when he scored on his debut against the club's city rivals Roma.
Gascoigne went on to spend three years at the Stadio Olimpico before returning to Britain, where he helped Rangers win successive Scottish championships, but thereafter his life spiralled out of control.
The 45-year-old has battled alcohol problems, admitted beating his former wife and was sectioned under the Mental Health Act since his career ended.
He declined an offer to attend the Europa League game between his two most famous employers due to "personal reasons", but Petkovic hopes he will be in the stands at the Stadio Olimpico when the two sides meet on November 22.
"I followed Gascoigne when he was at Lazio and I know he was an idol to the fans so I am very sorry that he won't be there tomorrow and that he is having these problems at the moment," Petkovic told a press conference at White Hart Lane.
"I certainly hope that with the inner strength that he undoubtedly has, he will be able to recover and that he will be in Rome for the second leg."
Spurs v Lazio is LIVE on ITV4/ITV.com on Thursday, following Young Boys v Liverpool at 5.30pm