Maverick Zarate back on the up at Lazio
by James Appell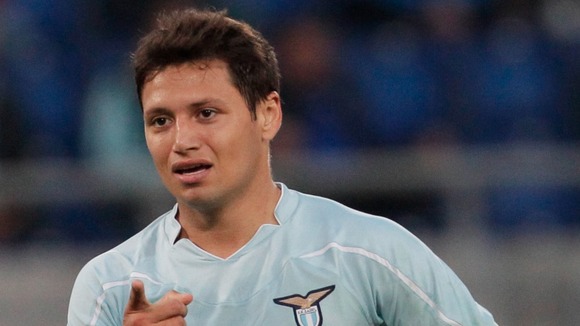 After a difficult first few months in the hotseat at White Hart Lane, there are some who believe that Spurs manager Andre Villas-Boas has bridges to rebuild with some of the Tottenham faithful.
But with Lazio the visitors to North London tonight, Villas-Boas might steal a glance at the opposing dugout and ponder the fate of Mauro Zarate, the Lazio striker who is himself trying to restore his reputation after a season out in the cold in Rome.
The Argentine goalscorer's relations with fans of the biancocelesti have been tested to the very limit over the last year. Once welcomed onto the Stadio Olimpico's Curva Nord to sit with Lazio's Ultras for a game, Zarate was persona non grata for all of last season after leaving for Inter Milan on loan, stating that he refused to play under then coach Edy Reja.
But then Zarate has never been short of self-confidence. This is a man who met his wife Natalie after seeing a picture of her in a magazine. He asked a journalist for her telephone number, cold-called her and delivered the opening line: "It's Mauro."
Perhaps as bold was his short but sweet stay at St Andrews in the colours of Birmingham City in 2008, which helped launch the Argentine into the common consciousness.
But even before then Zarate had marked himself out as something of a maverick. A hugely promising goalscorer at Velez Sarsfield in his teens, Zarate agreed a move which surprised many at the time, opting to join Qatari side Al-Sadd in 2007, only to discover the Middle East was not the career stepping-stone he had hoped for.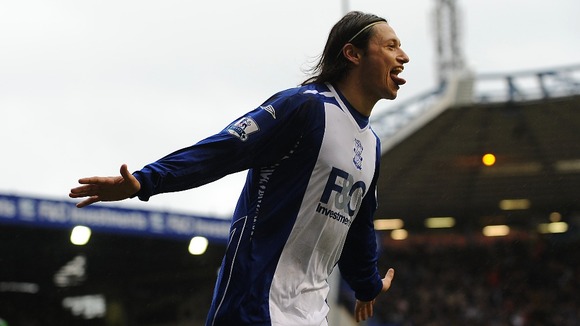 Threatened with relegation, Birmingham came calling, and with four goals in 14 appearances the 21-year-old impressed, though it wasn't enough to save the Blues from the drop.
Those tumultuous early years underlined Zarate's willingness to stand out from the crowd, a character trait which has continued to punctuate his career at Lazio since signing for the Serie A side in the summer of 2008.
The standard footballing fare of tantrums and tiffs have dogged Zarate's relationships with successive Lazio managers, culminating last season, when the Argentine's refusal to work with incumbent Reja led to the striker, signed for €20million, being shipped out to Serie A rivals Inter.
Zarate has returned, and may even be handed a chance to start against Spurs in the Europa League group stage tonight. He has said all the right things since Reja was replaced by Bosnian Vladimir Petkovic in the summer - "the only truth is that since Zarate has come back to Rome, he wants nothing more than to do his talking on the field," his agent has stated - and perhaps now, at the age of 25, the former Argentine Under-20 star, talked up as Carlos Tevez's immediate heir, can find some consistency.
Over on the Spurs bench, Andre Villas-Boas will no doubt be hoping tonight is not the night Zarate repays his considerable debt to Lazio's fans.