Clarke sure West Brom will bounce back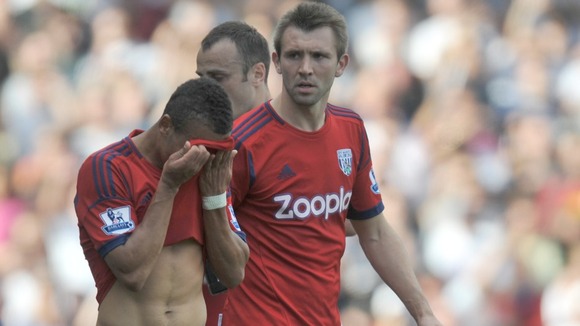 Steve Clarke insists the wheels have not come off West Brom's impressive start to the season just because of their first Premier League defeat at Fulham last weekend.
An opening day 3-0 win over Liverpool set the tone for a superb start to the campaign as a draw at Tottenham and win over Everton followed.
However, last Saturday's 3-0 loss at Craven Cottage provided a reality check for anyone getting carried away by Albion's strong start.
Head coach Clarke was reluctant to get carried away by his side's form in the opening few weeks and is similarly philosophical about their first defeat.
"We had a really good start to the season," he said. "Then we lost at Fulham - which a lot of teams do - and didn't quite reach the standard that we expected to reach. But it's just a defeat, it's part and parcel of football and we'll move on to the next game.
"I'm not sure it was an exceptional start to the season. It was a good start. We're a good team, I've said that all along.
"We expected to start well and we did that. We've had a defeat and suddenly everyone wants to turn it around. We just approach the next game like we've approached the others and hopefully our performance will be good enough to get the result.
"I'm not sure too many people were getting carried away. I think the media might look at it and go 'that was really impressive' but the important thing is that in the confines of this building, our group, we knew we'd had a good start but I kept saying there would be disappointing days to come.
"Unfortunately it arrived a bit earlier than we wanted it to but it's arrived and we'll just deal with it now."
Asked how he wants his side to react when they face Reading at the Hawthorns tomorrow, the Scot said: "I want to see them win the game. I want them to go out, play as they played in the previous two home games and hopefully that will be enough to get us the positive result that we want."
Striker Shane Long is expected to start against his old club and the former Royals favourite has vowed not to celebrate should he score.
Clarke has no issues with his forward's loyalty towards his former team.
"It's a decision for Shane. If he scores three goals and doesn't celebrate any of them, I'll be delighted.
"It's down to the individual. We've seen a number of cases over the years of players scoring and not celebrating against their former club as a mark of respect. If Shane scores and everyone else is jumping about but he's not, then we'll be happy enough."
Albion will be without suspended striker Peter Odemwingie against Reading as he begins his ban for kicking Sascha Riether at Fulham, opening the door for the likes of Markus Rosenberg, Romelu Lukaku and Marc-Antoine Fortune to seize their chance up front.
Clarke hopes to have full-back Steven Reid available after a hamstring injury but defender Goran Popov is set to miss out with a groin problem.