Di Matteo: I was right to play Terry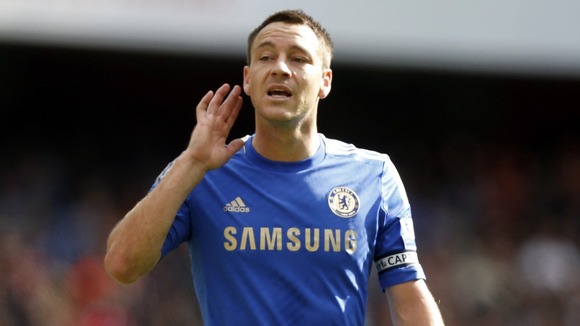 Chelsea manager Roberto di Matteo felt his decision to play John Terry was vindicated after the Blues captain came through the expected hostile reception at Arsenal to lead the team to a 2-1 victory.
Former England skipper Terry was earlier this week found guilty of using racist language towards Anton Ferdinand by a Football Association hearing, but is awaiting the full written judgment of the independent panel, before deciding whether to appeal a verdict which saw him banned for four matches and fined £220,000.
The 31-year-old has always protested his innocence and was found not guilty of a racially aggravated public order offence in a criminal trial during July.
Predictable chants of "you know what you are" from the Arsenal crowd greeted Terry's first touch, as did jeers for former Gunner Ashley Cole.
However, the Emirates Stadium faithful had little to sing about as the match wore on.
Fernando Torres fired Chelsea ahead following some poor marking by Laurent Koscielny and Juan Mata's free-kick squirmed in to secure three points for the European champions after Gervinho had equalised on the stroke of half-time.
Di Matteo said: "Of course I had to think about what the right team for the game today was, and eventually I made the selection.
"I speak to my players all the time, and obviously had a conversation (about it) with John as well.
"It was the right side from my choice to pick him today.
"John showed his leadership qualities and what a good defender he is for the team."
Despite the heckles of the home support, Terry was as usual cheered on throughout by the Chelsea fans.
At the final whistle, Terry made a point of heading over to the travelling support, and handed his boots to some young fans.
Di Matteo said: "There is always a lot of talk about the negative side of John, but he does a lot of good, positive work as well."
One negative for the Blues today, however, was the caution in the second half of defender David Luiz for diving in the Arsenal penalty area.
Following on from last week's criticism by Stoke manager Tony Pulis after their game at Stamford Bridge, di Matteo made it clear such tactics are not acceptable.
"I am against diving and it is not something I encourage," he said.
"Luiz went down, but he did not appeal for anything.
"We have conversations about it all the time, but they are private with the players."
Chelsea consolidated their position at the top of the table, with five victories from the opening six matches.
It was an impressive all-round display from the Blues, who are looking to change the dynamic of their game on the back of new summer signings like Eden Hazard and Oscar.
"This victory gives the team a lot of confidence and belief we can play differently," said di Matteo.
"We have to try to improve, to change our style a bit from last season.
"We have had a good start and hopefully we can build on that.
"However, we know how much work we still have to do to integrate all of our new players and make them understand the system we want to play."
While Chelsea came through their first real test of the new campaign, the Gunners again saw question marks raised over their defensive resilience.
Both goals could easily have been prevented with some more composed defending, while the home side also failed to make the most of their chances, Petr Cech making some smart saves while substitute Olivier Giroud shot into the sidenetting when clean through in stoppage time.
Arsenal manager Arsene Wenger lamented: "We played against a good team but we gave the game away.
"They had three shots on target and scored two goals, from soft set-pieces.
"Defensively we were just not at the level you have to be in a game like that, which is where we were punished today.
"For the rest, we have shown quality and spirit, but we have to show more personality and authority on the goals we conceded."
Wenger defended his decision to leave Per Mertesacker out as captain Thomas Vermaelen came back in alongside Koscielny.
"It was based on the opposition we played," he said.
"If I do not play Koscielny or Vermaelen and do win the game, you will ask me the same question."
Arsenal's game plan had to be changed after less than 20 minutes when Abou Diaby limped off with a thigh strain, which could sideline him for around three weeks.