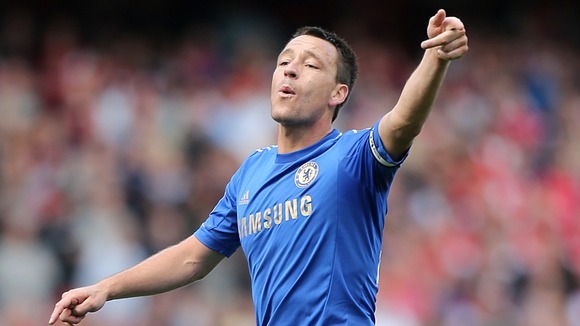 Pre-match: All Arsenal players appear to shake hands with Terry.
One minute: First touch is jeered by the Arsenal fans, who sing: "John Terry, you know what you are." Chelsea fans respond with: "There's only one England captain."
4: Clears Carl Jenkinson's cross.
15: Cuts out Aaron Ramsey's cross.
18: Arsenal fans scream for a foul as Terry halts Gervinho's run on the edge of the box but referee Martin Atkinson waves play on.
27: Calmly chests the ball back to Petr Cech.
42: GOAL - Fooled by the movement of Gervinho, allowing the striker to control Alex Oxlade-Chamberlain's cross and equalise.
48: Close to getting on the end of Juan Mata's corner.
67: Gives the ball away after calmly bringing it out of defence.
72: Blocks Theo Walcott's shot.
76: Nods the ball back to Victor Moses, who inexplicably heads goalward from 20 yards.
78: Heads away Oxlade-Chamberlain's cross.
86: Clearance from Walcott's cross bounces back to Cech.
Post-match: Applauds the Chelsea fans and walks over to them, removes his boots and gives them to a young boy in the crowd. Crowd sings: "There's only one England captain."