Torres: We've passed our first big test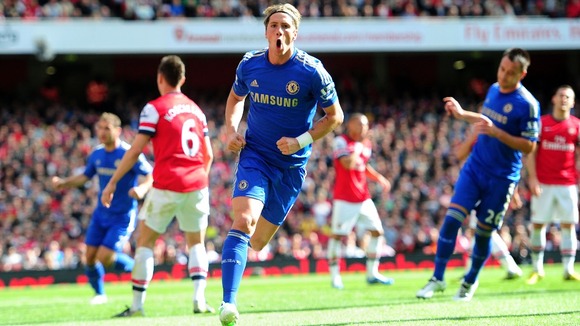 Chelsea striker Fernando Torres felt his side had passed their biggest test of the season so far after this afternoon's 2-1 Barclays Premier League win at Arsenal.
The Spain international fired the Blues ahead following some poor marking by Laurent Koscielny and Juan Mata's free-kick squirmed in to secure three points for the European champions after Gervinho had equalised on the stroke of half-time.
Torres said on Sky Sports 2: "We knew before the game it would be an important result.
"It was one of the main targets we have this season - winning these kind of games. We want to be in the top four for sure and fighting for the title.
"Today was the first big test. It's a very difficult stadium against a great team. It's very good for us."
Torres' goal was his fifth of the season and he acknowledged playing with a smile on his face was helping.
"I enjoy more this season," the former Liverpool forward said. "The kind of players I have behind me has given me a lot of support. I have to improve to create more and more chances for the team.
"I'm scoring more. The team still have a big way to improve. Not just me - everyone.
"I think we're showing as a team with this different style of football this season we're in the top. We can dream with a very good system again."
mfl
Page 2: 15:19
Chelsea manager Roberto Di Matteo was full of praise for his players, who he claimed were worthy winners.
He said on Sky Sports 2: "I thought we played very well and deservedly won the game. It's always difficult when you come to the Emirates Stadium. They're a very good side. I thought we were excellent today.
"From start to the end, we never really defended too much or too deep. We tried to take the initiative and to go forward and create chances.
"Our pressing was very good. We showed it last weekend against Stoke as well. You can't allow them to dictate the rhythm and we did that well."
Di Matteo was particularly pleased with the contributions of Torres and captain John Terry, who led the side after a troubled week in which he was found guilty of using racist language towards Anton Ferdinand by a Football Association hearing.
"Very good," the Italian said of Terry. "He showed his leadership and it was right to pick him."
On Torres, he added: "I've always said he was happy. You tend to over-analyse a bit too much. I was always happy with his contribution and he scored a great goal."