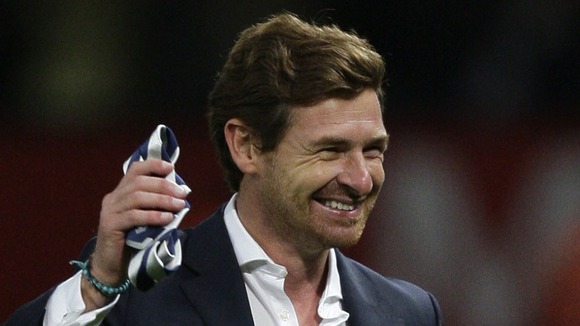 Andre Villas-Boas spoke of rewriting Tottenham's history at Old Trafford on Saturday - but never mentioned the changing of his own.
It is a measure of the man that Villas-Boas chose to heap the praise on his players following their 3-2 win at Manchester United.
There was not even a passing aside to the defeat he suffered at Old Trafford 12 months previously, in the early days of a troubled stint at Chelsea.
Yet it is clear Villas-Boas, given the time and space, has ideas capable of not only bringing success, but doing it in the kind of swashbuckling manner Roman Abramovich craved when he lured the Portuguese away from Porto in the summer of 2011, aged just 33 and with only two seasons of top-flight coaching experience under his belt.
"Andre is a cool guy who is really easy to talk to," said matchwinner Clint Dempsey.
"He wants to win and be successful and his attention to detail, from the management to the physios is just first class.
"Hopefully we can do some special things."
The recurring themes in Villas-Boas' assessment of Tottenham's first win at Old Trafford since 1989 were "authority and confidence".
His players needed both, first to seize the initiative from United in a spellbinding opening half, then to repel the comeback as Sir Alex Ferguson's side turned the screw in their ultimately doomed quest for an equaliser.
"They felt inspired all week that they could do something at Old Trafford," he said.
"It came down to the talent they have and the authority and confidence they feel.
"The way we played in the first half was unbelievable. It is not common to see on this ground and the way we defended afterwards showed a team that believes in each other."
That one of Tottenham's goalscorers, Gareth Bale, had barely trained all week due to a virus just made what transpired all the more remarkable.
If they hadn't known who the teams were, few who were present would have picked the hosts as more likely Premier League title contenders.
Tottenham's first-half display exposed some woefully weak United defending, for which the defenders alone cannot be blamed.
Exploiting spaces in midfield neither Paul Scholes nor Michael Carrick were able to fill, first Jan Vertonghen, then Bale drove deep into United territory and found the finish to match.
"Lackadaisical," was Ferguson's description of that performance, before going on to praise his players' character and condemn the time-keeping of referee Chris Foy.
This diversionary tactic will not fool many United fans, who have felt for some time their team's midfield badly needs strengthening due to its lack of a physical presence.
Of the players presently available to Ferguson, Anderson is the most obvious solution and at some point, surely the Brazilian will face an examination that will either make or break his United career.
For a start, he should be under consideration for Tuesday's Champions League trip to Cluj, when Ferguson is convinced Jonny Evans will be available despite the Northern Irishman limping to the dressing room with a dead leg, treated after the final whistle.
United's travails should not be allowed to obscure Villas-Boas' achievement, with Ferguson airing before kick-off his feeling that Tottenham could be set to profit from Abramovich's impetuosity.
"When you are at that stage in your life, full of confidence and enthusiasm, you can be in too much of a hurry," said Ferguson.
"He ran into problems with senior players (at Chelsea) and things didn't work out for him.
"Perhaps Chelsea's loss will prove to be Tottenham's gain because there is no doubt he is a talented young coach who brings a football philosophy to the game that could fit well with the Spurs approach."
And, as with Villas-Boas, maybe Tottenham are also about to benefit from Liverpool's decision to haggle over Fulham's asking price for Dempsey.
The American's first Premier League goal for Spurs was a tap-in, after Anders Lindegaard had turned away Bale's shot.
But the middle goal of three that came in a four-minute second-half whirlwind ultimately proved decisive as United could not add to the ones scored by Nani and Shinji Kagawa.
"You want to be somewhere you are wanted," said Dempsey.
"There was definitely interest from Liverpool but Tottenham wanted me that much they made things happen."