Lampard eyes early Euro progress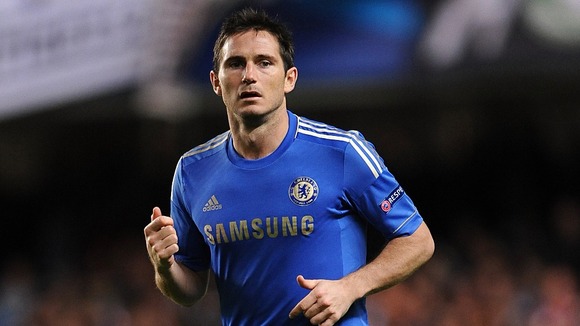 Frank Lampard urged Chelsea to try to seal their place in the Champions League knockout phase with two games to spare after helping them beat Nordsjaelland and take control of Group E.
The European champions left it late to put their Danish counterparts to the sword in Copenhagen last night, scoring three times in the final 11 minutes of a flattering 4-0 win.
The final flourish was enough to lift them above Shakhtar Donetsk on goal difference ahead of their upcoming double-header against the Ukrainian title-winners.
Back-to-back victories could cement Chelsea's qualification for the last-16 and maintain their record of having never failed to get out of their group.
And Lampard, who returned to captain the Blues last night after failing to start any of the previous three matches, said: "It is important now that, our next couple of games, we try and get wins again and then we will have that foot into the next stage."
Chelsea may not have been in a position to do that had they tossed away another lead in a Champions League match last night, something they threatened to do at the Parken Stadium.
Roberto Di Matteo's side blew a two-goal advantage in their Group E opener against Juventus, while last season saw them score first in all of their opening four away matches but fail to win any of them.
Lampard added: "It was very important to win this considering we drew our first game.
"What happened last year shows how tough it is to win away.
"We didn't win away in the group stages last season but we went on to win the competition. There are a lot of ways to skin a cat."
The 34-year-old admitted the way Chelsea became "lax" last night after Juan Mata put them ahead was a concern.
"A little bit, but I think it is always hard to dominate a Champions League game away from home from start to finish," he said.
"We played Genk last year and drew 1-1, a team not so fancied in the big picture but they can be tough games.
"I don't think they will give Juventus and Shakthar easy games either."
Lampard did not discuss his own recent omission from Chelsea's team, in stark contrast to a year earlier when being left out by previous boss Andre Villas-Boas saw the first cracks emerge in the pair's relationship.
The England star claimed after scoring in the Blues' 1-1 draw at Valencia that he did not benefit from being in and out of the side.
Di Matteo appears to have handled the situation far more diplomatically than his predecessor and even Lampard could see the benefits of a rest when it came to discussing team-mate Mata.
Spain playmaker Mata has been in the form of his Stamford Bridge career since returning from a fortnight off following his European Championship and Olympic exertions.
Last night's brace took Mata's contribution to four goals and four assists in his last four games, the 24-year-old having a hand in almost two-thirds of Chelsea's goals over that period.
Lampard said of a player who may prove his successor as the Blues' midfield talisman: "He had a nice little break for a couple of weeks which he probably needed after the Euros. He is looking very sharp and it is great to see.
"When players get on little runs of goals like that, they tend to keep on coming and he is a real threat at the moment."
Nordsjaellland, meanwhile, were left to rue a missed opportunity to record arguably the most famous result in their history.
Captain Nicolai Stokholm said: "The scoreline is harsh.
"It was totally even for 79 minutes, then Petr Cech made a fantastic save and, from there, Chelsea go up the other end and make it 2-0.
"That took all the power out of our team and after that we gave the game away.
"But, if our shot had gone in, we could have got a point from the game.
"We have to learn from the mistakes, keep our heads up and our chests out, and try and play the same way against Juventus without making the same mistakes."