Jean Alain-Boumsong: World's luckiest footballer
by Will Unwin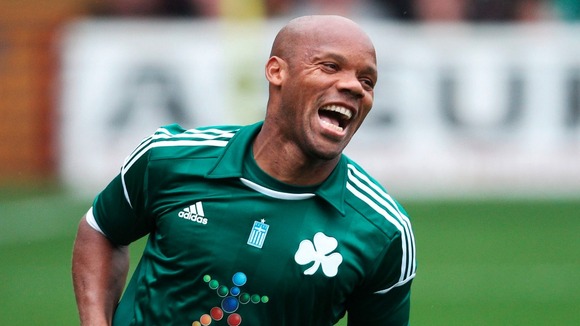 We've all done it at some point or other; you're watching a game, witnessed a player make an elementary mistake and shouted 'I could do better than that'. One man who has been the victim of this more than most is Panathinaikos defender Jean-Alain Boumsong, whose reputation for calamity precedes him among English fans.
It all started so well for the Frenchman at Le Havre and Auxerre, earning his reputation as an intelligent defender. He decided to run down his contract with the latter under the Bosman ruling and became one of the most sought-after free transfers on the continent.
After much deliberation, Boumsong made the slightly obtuse decision to join Rangers. He only made 18 league appearances at Ibrox, before Newcastle boss Graeme Souness shelled out £8m on a man who had done well in Scotland without setting the league alight.
The Frenchman wasn't aided at St James' Park by the fact he had to slot in alongside Titus Bramble and occasionally Peter Ramage, which could damage the reputations of some of the world's best.
Boumsong took to the task of ruining his reputation with great gusto, putting in some comical performances in black and white. The lowlight was a home game against Manchester United, where he was at fault for three goals. His positioning was, frankly, atrocious and he made enough individual errors to make a Department of Transport employee look competent.
Despite a turbulent spell in the Premier League, Boumsong still had sufficient esteem from his early career, and was signed by Juventus. In contrast, his regular central defensive partner Bramble was forced to rebuild his reputation at Wigan. Such are the swings and roundabouts of footballing fortune.
Meanwhile Boumsong continued to represent France at the time when they were one of the best teams on the planet, much to the bemusement of people who had ever seen him.
In Italy, he played in Serie B in his first season with Juventus, after the club's demotion due to match-fixing. It seemed that Boumsong had found his level, as the Old Lady dominated a league made up of inferior opposition.
Once promoted, Boumsong struggled to make the team, and was despatched in January to his native France to join Lyon.
Things ran smoothly for him at the Stade Gerland as Lyon captured the Ligue 1 title and won the Coupe de France, but once more things fell down around him as the club entered transition.
Two trophyless seasons resulted in Boumsong falling out of favour and being shipped to Panathinaikos - with no return address on the box - and he has established himself as a key figure in the Greeks' side.
Whatever his flaws may be, the big Frenchman has maintained a career at the highest level for well over a decade now, displaying an amazing knack of landing on his feet.
It all makes you feel rather sorry for those less fortunate than Boumsong, like the aforementioned Bramble, whose careers nosedived after being horribly exposed. Then again, as William Prunier would say, 'c'est la vie'_.