Norwich to rise to challenge at Chelsea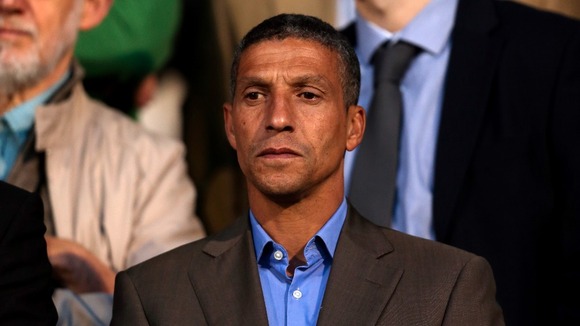 Chris Hughton has challenged his struggling Norwich side to be inspired when they tackle Barclays Premier League leaders Chelsea at Stamford Bridge.
The Canaries head to west London without a win from their first six league games and seeking a response from last week's 5-2 home demolition by Liverpool.
While facing the in-form Blues might not be exactly what Norwich need as they try to turn the tide, Hughton, who took over from Paul Lambert in the summer, sees no reason why his team should not rise to the occasion.
"The inspiration for the team should be walking out against quality international players. What a wonderful stage to go and apply your trade," Hughton told a press conference.
"I would be incredibly disappointed if there was one player who was not looking forward to that challenge.
"Whether it is this week, next week or next month we have got to play them."
Norwich had recovered from their 5-0 thrashing at Fulham on the opening day and - before being taken apart by Liverpool as Luis Suarez stroked in a hat-trick - had been hard to beat, battling to a 1-1 draw at Tottenham last month and playing well enough at Newcastle before losing 1-0.
Hughton continued: "It will be a tough task, but it would be that whether we were on the back of a defeat or in the middle of a good run.
"It is a difficult place to go. You know that before you go there.
"You just have to set up the team correctly and give a good account of ourselves."
Although they scored twice last weekend, league goals have been in short supply for the Canaries, with just four and only one away.
Captain Grant Holt, who bagged 15 Premier League goals last term, finally opened his account with a late consolation against the Reds.
The 31-year-old handed in a shock transfer request in the summer, which was eventually resolved after he penned a new deal.
Holt, though, angrily rejected suggestions he had lost some of his hunger as a result.
"No, no, I've given up this year. I've decided to bin it off. I signed my three-year deal and thought I'd just leave it this year, sit back and have a few cans and a few cigarettes and chill with the kids," he said when asked by reporters.
"It is a ridiculous question. No I haven't (lost my hunger).
"Why wouldn't you have it?"
Holt, though, admitted some frustration about being in and out of the side so far.
He added: "You have just got to get on with it and do whatever the manager wants you to do, and try to do your best for the team and the club."
Norwich, meanwhile, look set for a messy compensation battle over the acrimonious departure of former boss Lambert to Villa.
Chairman Alan Bowkett, speaking to a supporters' forum at Carrow Road, said: "He walked out on us - Aston Villa said he was a free agent so they are not paying us compensation, which we take issue with.
"However, interestingly Paul Lambert is taking Norwich City to an industrial tribunal for unfair dismissal and breach of contract, and he wants £1.5million to £2million from us, so we look forward to those tribunals."