Arsene wary of shaking hands as Arsenal fight virus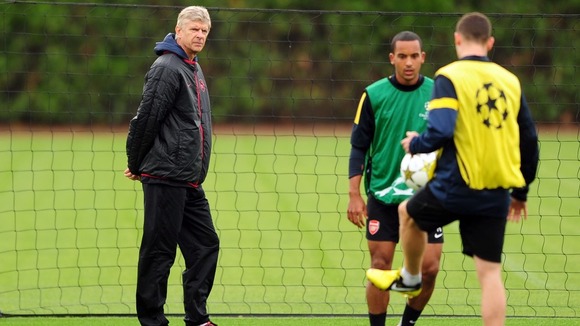 Arsene Wenger revealed Arsenal would go as far as stopping players shaking hands if it meant keeping a virus from spreading through the squad.
The Gunners hope to have Per Mertesacker available for this evening's trip to West Ham after the German missed the midweek Champions League win over Olympiakos with a flu-like illness which had also previously laid low England forward Theo Walcott, midfielder Francis Coquelin and captain Thomas Vermaelen.
While the current outbreak is nothing like an epidemic, Wenger maintains the club are always cautious in regards to prevention.
"We have improved the level of hygiene in the dressing room, we clean everything. It is funny, but shaking hands is one of the biggest things to spread virus," said Wenger.
"I shake hands with everybody, but we are advised not to do it when there is a high level of risk.
"At the moment it has passed and is not a high level. A few have it, but it is not (necessarily) the case that they got it here."
Having 6ft 6in centre-back Mertesacker available again would be a tactical boost for nullifying the threat of fit-again West Ham forward Andy Carroll.
"Mertesacker has made a big leap and he came back (from his broken ankle] very fit," said Wenger.
"He looked very sharp on the first day that he came back, he lost some weight and of course that helps."
Arsenal responded from last weekend's disappointing home defeat by Chelsea to stay on course for qualification for the knockout stages in Europe.
Gervinho netted his fifth goal in as many games during the 3-1 victory, having been moved to a central striker's role following the sale of captain Robin van Persie to Manchester United.
Wenger is confident the whole side can now provide a collective attacking threat.
"When Van Persie was injured of course it's not only that you can't score goals any more, it is the psychological consequences on the morale of the team," Wenger said.
"Players ask you already, 'does Van Persie play on Saturday or not?' when he has two or three days out."
Wenger expects a stern examination from the Hammers, who have shown promise on their return to the top flight under Sam Allardyce, winning again at QPR on Monday night.
"You know your players need to be 100 per cent focused, because you can have a virtual domination, but one mistake and you lose the game," said Wenger.
"It is a concentration challenge as well because West Ham have a good mixture. They can come from midfield, with good technical players."
Wenger added: "We lost a game against Chelsea we should not have lost. The focus in the team is good, the quality is there and winning at West Ham is a good way to show it."