Platt impressed with City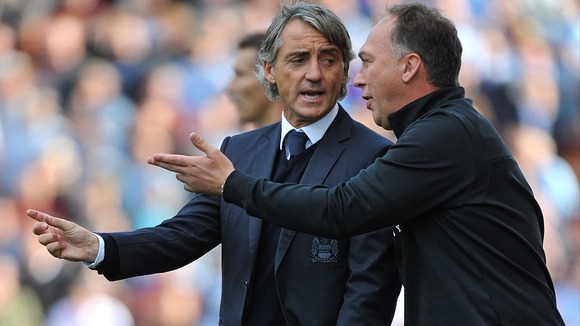 Assistant boss David Platt felt Manchester City had produced an emphatic response to their recent difficulties after crushing Sunderland 3-0 at the Etihad Stadium.
The Barclays Premier League champions were overrun in the latter stages of their midweek Champions League clash with Borussia Dortmund but clung on to snatch a 1-1 draw.
Coming after a series of less than convincing performances in domestic competition, and having failed to keep a clean sheet, that raised questions over City's durability.
But Platt felt all that had been banished as Aleksandar Kolarov, Sergio Aguero and James Milner struck in a one-sided win which ended the Black Cats unbeaten record.
First-team coach Platt said: "We needed the second goal to settle us down.
"At 1-0 there is always a risk, even though we controlled the game.
"In the second half we started to play with a lot of confidence and freedom.
"Games go for us and against us and whenever on the back of a bad result, we always get a reaction from top players and that's what we got.
"We are not stuttering as much as people make out. We have set ourselves in a decent position, we are there or thereabouts.
"If you do a parallel with our first seven games of last season, in terms of goals conceded and points that puts us better off."
City now have 15 points seven games into their title defence and remain unbeaten.
The result also brought up the welcome statistic of a first clean sheet of the season for the in-form but often exposed Joe Hart.
Platt said: "I'm delighted for the team and for Joe - we kept a clean sheet last week in our eyes because it was never a penalty."
Despite the manner of the performance, there was one negative point as Mario Balotelli headed straight down the tunnel after being substituted, but Platt shrugged when asked.
Kolarov opened the scoring with a superb free-kick after five minutes but it was not until the hour that substitute Aguero doubled the advantage.
Milner put a more realistic sheen on the scoreline when he curled in a free-kick after 89 minutes.
Kolarov and Balotelli had both wanted to take the free-kick from which the opener came.
Kolarov told Sky Sports: "I had a normal conversation with Mario about the free-kick and whether it was in a good position for me to take it or Mario.
"It was a good position for me to hit it with my left foot, I knew what I was going to do with it."
City rediscovered their defensive solidity without captain Vincent Kompany, who was ruled out with a calf injury, while Micah Richards made a surprise return in his place.
The Belgian tweeted: "Injury isn't too bad but I was carrying it since the last game. Will have to try and get fit for internationals!"
Manager Roberto Mancini did not attend the post-match press conference but told TV: It was a very good performance. We played very well and took no risks.
"To score three goals I am happy for us today. It was not easy, Sunderland are a good team and it was a very difficult game.
"All players who played today played very well."
Sunderland boss Martin O'Neill had no arguments with the result.
He said: "We were well beaten by a superior team. I have very little complaint.
"My complaint obviously is with us. When we had possession of the ball we gave it away too easily and when we came in at half-time we could have been in trouble, but we were still in with a chance.
"We attacked too infrequently and the second goal was a big moment because it allowed them to go and display all their ability without the concern of conceding a goal.
"They deserved to win. They were much, much better than us."