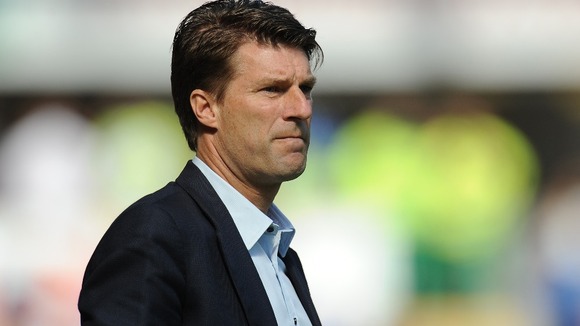 Swansea boss Michael Laudrup has promised his side will be sticking to their passing game and not resorting to long-ball tactics in their search for points.
The Swans went into Saturday's Premier League clash with Reading at the Liberty Stadium having lost their previous three top-flight games, and looked set for another defeat when first-half goals from Pavel Pogrebnyak and Noel Hunt put the visitors firmly in the driving seat.
Those strikes had come against the run of play, though, and the home side continued to pressurise after the break, eventually salvaging a 2-2 draw thanks to Michu's diving header and a fierce Wayne Routledge effort.
Indeed, had it not been for the heroics of Royals goalkeeper Alex McCarthy, Swansea's continual attacking would have yielded further goals and probably all three points.
The Welsh outfit have become renowned for their attractive, dynamic brand of football over the last few years and it is something Laudrup - who was appointed as successor to Brendan Rodgers over the summer - has vowed he will not be abandoning, even when times are tough.
"Given the way we play, it could be easier if we just played direct every time," Laudrup said.
"When you lose games and the confidence is not the highest, it would probably be easier to just pump the ball up there to the two up front and see what happens.
"But it is not the way we play and we will continue playing as we do.
"We just have to remember all the things we have to do - the movements, the tempo - as we did in the second half.
"When you see how we played in that second half, and for part of the first half, then you see we have a very good team.
"We have to do it this way, otherwise we will struggle."
After starting their league campaign with a 5-0 win at QPR and 3-0 home success over West Ham, Swansea drew 2-2 with Sunderland before going on their run of defeats, in which they also conceded at least two goals per game.
Including yesterday's contest and the 3-2 Capital One Cup victory at Crawley on September 25, the Swans have let in 13 goals in six matches and while determined to maintain the way his team play when they are going forward, Laudrup acknowledges that they need to be tighter at the back.
"This was one of the key issues before the game - to try to get a clean sheet," Laudrup said.
"It is now six (in a row where they have conceded two or more) with the Crawley game, so it is too many games. If you have to score three goals to win, or two to draw, that is too much."
Although Reading - still without a Premier League win this season after six games - had thrown away a two-goal lead, their manager Brian McDermott was not about to complain too much about a potential victory squandered, deeming it a "point gained" and praising the efforts of McCarthy
Asked about the 22-year-old stopper, McDermott said: "He is more than a prospect. He is a goalkeeper who wants to take the number one spot.
"We have Adam Federici there as well who is an Australian international, Mikkel Andersen who is out on loan at Portsmouth and Stuart Taylor, so we are blessed with really good goalkeepers.
"Alex made some fantastic saves."