Coyle: I've left Bolton in very good shape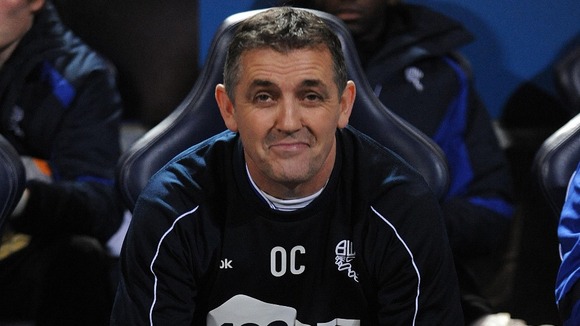 Owen Coyle firmly believes he has left Bolton in good shape after he was relieved of his management duties this morning.
The 46-year-old paid the price for a poor start to the npower Championship season, leaving the Trotters languishing in 18th place in the table after three wins in their first 10 league matches.
The Scot left Burnley in January 2010 to succeed Gary Megson at the Reebok Stadium, with Bolton struggling in the relegation zone.
He managed to save them from the drop but failed to emulate that last term as the Lancashire outfit lost their top-flight status.
However, despite Wanderers' decline, Coyle believes his successor has a solid platform to build on.
"It's a hugely disappointing day for everybody," Coyle told Sky Sports News. "We have worked very hard for long hours to put a plan in place at the football club for years to come.
"Whoever comes in is going to be a very lucky person to come into a wonderful football club, which has a structure in place that will benefit the club for many years to come."
Coyle feels Bolton were not far away from turning the corner, pinpointing a lack of luck as a factor for only collecting 11 points so far.
"The performances have been to a high standard, but we have to accept that we have not won as many games this season as we wanted to," he said.
"There has been an element of luck. On Saturday we missed a penalty at 1-1.
"But we understand how football works. What I do know is it is a truly wonderful football club for anybody to come in to and it's going to be a marvellous job and I have no doubt the club will go from strength to strength."
Coyle, who has also managed Falkirk and St Johnstone, was obviously disappointed Phil Gartside decided to make the change but holds no ill feeling towards his former chairman and friend.
"Anybody who knows us knows how passionate we are about football and how passionate we are about Bolton Wanderers," he said.
"That's obviously been taken away from us today but the club, to be fair, came in and said a decision was going to be made. They had the grace to say we can dress this up however we wanted. Whether we say I was leaving or it was mutual consent, but the truth should be told.
"I have always called it straight and the bottom line is they have decided there was going to be a change. Let's tell it as it is and that's what happened. I wish them nothing but the best. Phil Gartside was my chairman and he is someone that I hold dear and I always will.
"Of course tough decisions have always got to be made in football. Whether it's changing managers or personnel, they are always tough decisions.
"I have no doubts it wasn't taken lightly. The decision has been made, it has happened. We take it on the chin and move on."
Academy manager Jimmy Phillips and head of academy coaching and development Sammy Lee will take temporary charge of the first-team squad, with their first assignment on Saturday week at home against Bristol City.