Trapattoni comes out fighting after thrashing from Germany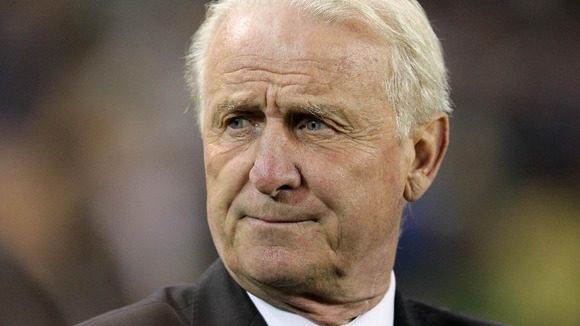 A defiant Giovanni Trapattoni challenged his critics to find better players after seeing the Republic of Ireland humbled by Germany.
Trapattoni's men were trounced 6-1 on their own pitch by the Germans as their hopes of qualification and their manager's hopes of hanging on to his job were dealt a severe blow.
But the 73-year-old, whose options were severely limited because of retirements and injuries, came out fighting afterwards.
He said: "We haven't this quality. We have shown at moments we can play football, but not against this team.
"Don't forget, Germany is the second team in the world, all the players play at the best European teams. They play in the Champions League, they play in the Premier League, they play in the best German teams.
"We have the players we have. We have no other players in Ireland. We have these players and they have done well in the past.
"Yes, we lost at the Euros, but in the first qualifying campaign, these players achieved a play-off against France, and we all know what happened against France.
"After, we achieved qualification for the Euros. We have changed many players since three years ago, and there are no more to discover. These are the best players in Ireland."
The Republic were undone twice within eight first-half minutes when Borussia Dortmund midfielder Marco Reus opened the scoring with 32 minutes gone and than added a second before the home side were able to regroup.
But Germany were only just getting into their stride and they cruelty exploited Ireland's deficiencies to inflict their heaviest ever defeat on Irish soil.
Mesut Ozil converted a 55th-minute penalty after Miroslav Klose had been felled by Darren O'Dea, and the striker received his reward three minutes later when he ran on to Bastian Schweinsteiger's pass to round keeper Keiren Westwood and slide the ball into an empty net.
Substitute Toni Kroos completed the rout by making it 5-0 after 61 minutes and 6-0 seven minutes from time, and Irish counterpart Andy Keogh's injury-time header was largely immaterial.
Trapattoni said: "Usually there is a reaction. Obviously at this moment, all the team are down and disappointed.
"The goalkeeper is because he has never conceded six goals. But we have always had a reaction in the past, and that's important."
The performance and result provided the perfect response to Germany boss Joachim Low's detractors, although he insisted neither he nor his players had been affected by the criticism.
He said: "I have to hand it to my critics that as far as the Austria game was concerned and our previous matches, maybe we hadn't quite reached the level we were aiming at.
"But throughout the week when we were training, it became evident to me that my players were slowly but surely getting into their stride and getting into their rhythm.
"It was also evident that internally, that criticism hadn't really got to my players. We don't let these things disturb our concentration."