Hart: England youngsters have no fear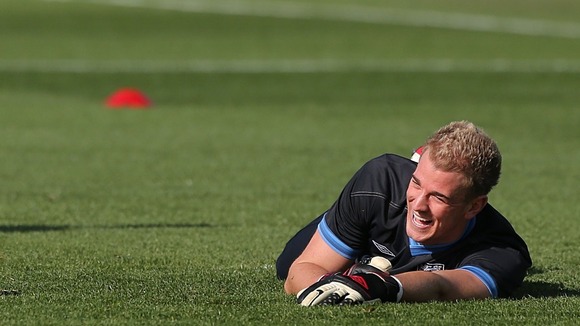 Goalkeeper Joe Hart is backing England's crop of young players not to be intimidated by the hostile atmosphere likely to confront them in Tuesday's World Cup qualifier against Poland in Warsaw.
Hart insists the youngsters injected into the squad by head coach Roy Hodgson play with "no fear" as England look to build on last night's 5-0 win over minnows San Marino at Wembley.
It will pit the skills of the Manchester City keeper against Polish striker Robert Lewandowski in a rematch of their battle in the Premier League champions' recent Champions League tie with Borussia Dortmund, which ended 1-1.
Hart said: "We stayed in Poland for Euro 2012 and felt a lot of love from the Polish people. We felt obliged to support them too.
"But the beauty of international football is, when you are playing away, you are playing against the nation.
"Poland were very unlucky in a tough group in the summer. I thought they did well and it wasn't meant to be. But they have got some talented players.
"Can the youngsters handle the pressure? It will be a new experience for some of them but players adapt.
"That is the beauty of young players now. They don't play with any fear."
Hart added: "I am not exactly old myself but I was a young player once and you really look forward to games like this.
"I enjoy playing football, especially for my country in big games that really mean things.
"That is the beauty of qualifiers and tournaments. They really do mean a great deal to myself as well."
Hart almost single-handedly denied 24-year-old Lewandowski and his team-mates to keep City in the hunt in their recent clash with Dortmund.
The former Shrewsbury player said: "I hope it won't be any different. Hopefully it won't be as open as the last time I played against him.
"He is a good player. It is going to be a tough game. It is a big important game for us and I am looking forward to it.
"Any away game is tough but we are a good side too, and we have got to relish games like that."
Hart had a taste of being England captain when the armband was handed to him after Wayne Rooney was substituted against San Marino after scoring twice to take his international tally to 31.
He said: "It was nice. I think it means a bit more when you start with it and it was great for Wazza to have the armband in a proper game.
"He took his two goals well and led the team well.
"He was not much different to how he normally is. But then he is a big character."
Hart spent the majority of the San Marino game admiring the performance of his counterpart Aldo Simoncini, who made several fine saves despite being beaten five times.
He said: "It was not very difficult because there was nothing really to do.
"I suppose you could lose concentration but we were that far on top, it really didn't matter what was going through my head.
"They didn't really have any attacks and I was more watching their goalkeeper have a great game and keep it down to five."