Ben Arfa eyes derby-day fillip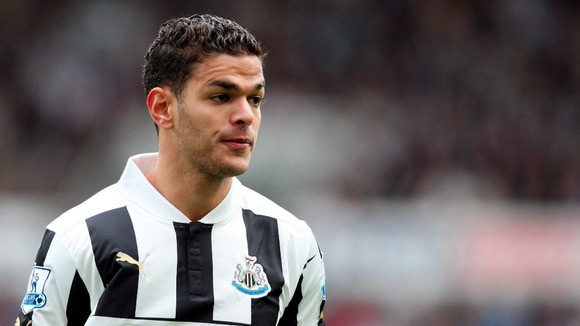 Hatem Ben Arfa is hoping a derby victory at Sunderland can belatedly kick-start Newcastle's season.
The Magpies head for the Stadium of Light tomorrow having won only two of their seven Barclays Premier League games this season to date, and although they have lost just two, they are struggling to find the consistent form which catapulted them into fifth place at the end of the last campaign.
However, a 1-0 derby victory on Wearside in August last year proved the catalyst for that surge up the table, and France international Ben Arfa is looking for a similar boost this weekend.
He said: "We are confident because we know we have very good players in our squad. That's why we are confident.
"In the Premier League, we have to win to get more confidence. In the last few games, we didn't take a lot of points.
"We have to get our confidence back. We have to win consecutive games to have high confidence.
"We have very good players. On the pitch, everyone wants to do very well in this game.
"All the fans want to play this game, but they can't, and we going to give all our energy for this game."
Ben Arfa has had only one taste of the derby experience during his time on Tyneside, coming on as a half-time substitute in the 1-1 draw at St James' Park in March to spark a fightback which helped his team come from behind to snatch a point.
As a result, the visit to the Stadium of Light will be his first, although the 25-year-old has been left in little doubt as to what to expect.
He said: "Everyone in the club, even in the kitchen, has told me, 'Now you have to score' and 'Now you have to win'.
"It's the biggest game for Newcastle this season. For the last week, every time I go into town, people have talked just about this game.
"I'm looking forward to playing this game. I'm very happy to play this game. I'm sure every player wants to win this game for the fans.
"Last year, I played one half. I felt the atmosphere was very great, not like other games.
"I have never played in Sunderland before, so I will see what happens there, but I think it's going to be very hard.
"The fans from Sunderland are going to make a lot of noise."
If Newcastle have largely failed to scale the heights they reached last season so far this time around, the same cannot be said of Ben Arfa, who has produced a series of electric displays to light up St James'.
He is the only Magpies man other than striker Demba Ba to find the back of the net in a league game, scoring the winner from the penalty spot against Tottenham on the opening day of the season and a stunning equaliser against Aston Villa on September 2.
He would dearly love to add to his tally this weekend in a game which rivals the intensity of the showdown between Paris St Germain and former club Marseille in his native country.
He said: "It's a similar atmosphere, but I think it's more intense here because the cities are next to each other. I think it's amazing here."
Newcastle are likely to be boosted by the return of first-choice central defenders Fabricio Coloccini and Steven Taylor from injury, while keeper Tim Krul is also in contention after working his way back from an elbow problem.