FA to investigate Hillsborough fan attack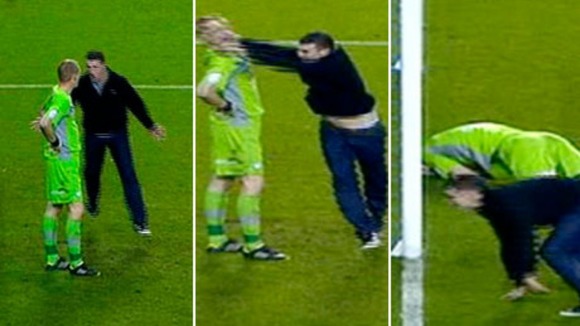 The Football Association is investigating the crowd trouble at the Championship match between Sheffield Wednesday and Leeds last night which saw home keeper Chris Kirkland attacked by a fan.
A number of Leeds supporters ran on to the pitch after Michael Tonge equalised in the 1-1 draw at Hillsborough and one man confronted Kirkland before shoving him in the face with both hands, knocking him to the floor.
An FA spokesman told Press Association Sport: "We are investigating the events of last night and awaiting the referee's report."
The spokesman went on to say: "The FA condemns the scenes at Hillsborough last night. We have begun an immediate investigation and have been in contact with both clubs.
"We would call for the authorities to identify and bring before the courts anyone who was involved in any form of criminal disorder."
Kirkland required medical treatment before he could continue and police are working to identify the man.
Chief Superintendent Jason Harwin, of South Yorkshire Police, said a senior investigating officer would be working with a team of officers to identify those responsible for the disruption.
He said there had been five arrests for various offences including public order before and after the game, while three people were ejected from the ground and 12 were subject to dispersal orders.
In a statement released late last night, he added: "First I would like to thank members of the public who have contacted us with information to help in the ongoing investigations following the incidents at Hillsborough tonight.
"Fans have now left the city and there has been no further reported incidents of violence and disorder."
Earlier he said there had been several incidents where seats and bottles were believed to have been thrown inside the ground.
Leeds issued a statement after the game pledging to identify the man involved in the incident.
It read: "Leeds United Football Club would like to publicly apologise and condemn the action of the fan who came on the pitch and attacked Sheffield Wednesday goalkeeper Chris Kirkland.
"The club will fully co-operate with the police and the football authorities in identifying the individual concerned.
"After the week football has endured there is no place for this type of behaviour and the majority of Leeds supporters will be ashamed of his actions."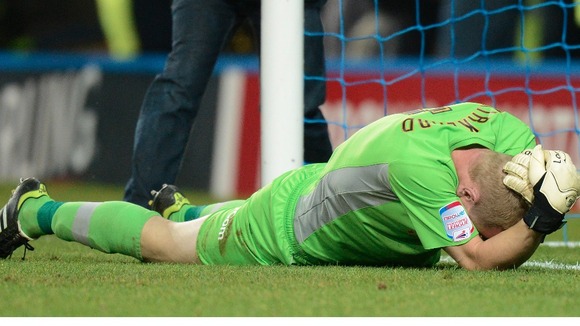 The atmosphere grew increasingly poisonous throughout the match as both sets of fans traded unsavoury chants.
A large number of the Leeds fans housed in the Leppings Lane End taunted Wednesday manager Dave Jones while the home supporters sang songs about two Leeds fans killed in Turkey in April 2000.
Leeds supporters responded by throwing bottles on to the field and clashing with police.
Jones was furious, branding the Leeds supporters "vile animals" and calling for them to be banned from every away ground.
The Wednesday boss was also angry at the decision of Leeds boss Neil Warnock to take his players over to the away fans and applaud them.
Jones said: "I really am fuming that he sent his players to clap them. For what? Wrecking a stadium? Beating up my goalkeeper? They need to clean their house and get it in order. And they should be banned from every away ground until they sort it out."
Immediately after the game, Warnock told Sky Sports he felt Kirkland had gone down too easily, but later called on the culprit to be jailed.
He said: "It's just so sad and disappointing. The club has made a statement and I'm pleased, we don't condone that. I hope the authorities and constabulary take the appropriate action. Get him sent to prison and stop it."
Today Warnock, speaking to Sky Sports News, apologised for his post-match comment.
Warnock said: "I was out of order saying that. There is nobody should be allowed to get on the pitch and do that to Chris.
"It's a minority who got on the pitch but you only need a small group, a few morons put everyone else to shame."
Warnock said that there had been offensive chanting by both sets of fans during last night's match.
"I talked to the Police afterwards. There were chants about Istanbul, Jimmy Saville, and I got abuse throughout the whole game. Dave got abuse too. I don't see how anyone can enjoy it."
Ray Fell, the chairman of the Leeds United Supporters' Club, wants action taken quickly against the assailant.
He told Sky Sports 1: "The only hope for most of us is the police act quickly and this lad is brought to task for it. He let the club down and he let us all down."
Of Jones' description of Leeds fans as vile animals, Fell added: "I think, in fairness to him, no-one likes and I certainly deplore the chanting that went on. I can understand his anger at that."
Gary Cooper, chairman of the Leeds United Supporters Trust, said banning Leeds fans from away games would not be a proportionate response.
He told BBC Radio Leeds: "I'm very disappointed by the comments of Dave Jones last night. I realise it was an emotionally-charged situation, but Mr Jones singles out Leeds United supporters, he calls them vile animals. Is that really fair?
"As Leeds fans we sort of understand where Mr Jones is coming from because, for a decade or more, we've put up with the kind of vile chanting we got from his own supporters last night.
"If we're going to deal with issues in the game, then let's deal with them, but don't single us out. You don't ban all Leeds fans because of the actions of one individual."
Anyone with information is asked to call police on 101 or Crimestoppers on 0800 555 111.