Manchester United v Braga: key battles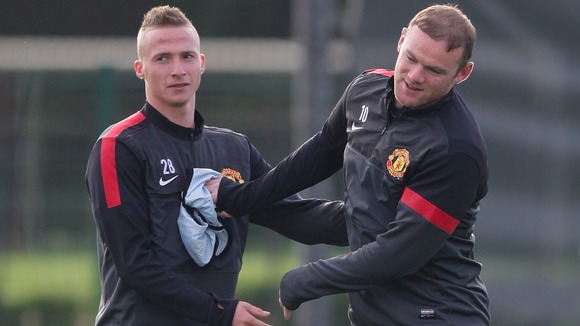 Manchester United will take a major stride towards the Champions League knock-out phase by beating Braga at Old Trafford.
It will not be easy though, the Portuguese outfit bounced back well from their surprise defeat by Cluj to overcome Galatasaray in Istanbul three weeks ago.
You can watch the game live on ITV1 and ITV.com
ALEX BUTTNER v ALAN
Buttner is set for his European bow and has already shown a willingness to attack in early appearances for United. The former Vitesse man has been impetuous at times too though, and Alan has already scored for Braga in this campaign and could cause trouble.
SHINJI KAGAWA v LEANDRO SALINO
Kagawa impressed immediately after his summer move from Borussia Dortmund but has found life much harder in recent weeks. Leandro is a wily Brazilian who will take no prisoners as he attempts to stop Kagawa getting United onto the front foot.
JONNY EVANS v EDER
A substitute for Portugal in their dismal 1-1 draw with Northern Ireland last week, Eder will be charged with exerting pressure on United's fragile defence where Evans is one of the more experienced players. And if goalscoring is not his forte, he could create openings for others.