Match preview: Ajax v Man City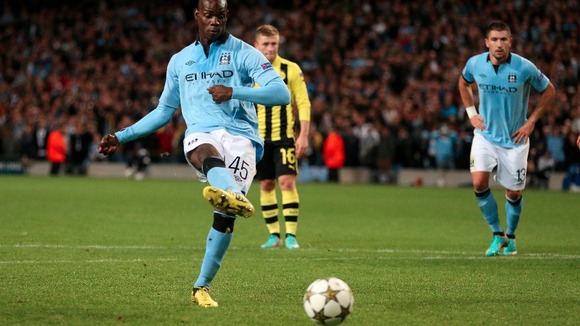 Manchester City boss Roberto Mancini knows his team must toughen up to keep their Champions League quest alive.
City have made another disappointing start in the competition, having collected just one point from their opening two matches in Group D.
Alarmingly, according to UEFA statistics, they have allowed 50 attempts on their own goal during their opening loss at Real Madrid and their draw against Borussia Dortmund last time out.
It leaves them heading into the first of their back-to-back games against Ajax in the Amsterdam Arena anxious for a result.
Mancini said: "It is better that we don't concede a lot of shots, but we played against Madrid in Madrid, so it is difficult not to concede chances.
"We had a bad game against Dortmund, but it is important we don't give away so many chances to score.
"This group is very difficult. We haven't started very well, tomorrow will be a difficult game.
"People think it will be easy, but Ajax have a good young team and will play well. It is more difficult away from home."
City found themselves in a similar situation 12 months ago after managing just one draw in games against Bayern Munich and Napoli.
They went on to beat Villarreal twice in succession but still failed to progress from the group stage despite ending it with 10 points.
That meant that, despite their status as Barclays Premier League champions, City were again seeded in a difficult group - one comprising entirely domestic champions - this season and they must advance to improve their co-efficient.
Mancini has no doubt his players are good enough to reach the last 16 but it is a case of obtaining the results.
The Italian said: "It is frustrating. We are here and every group game is difficult in the Champions League.
"We should continue our way and if we play like this, we will win.
"We don't have experience as a club, but all of our players have Champions League experience.
"Maybe as a club, we need more experience, but we have good players and that's why we should be in the second stage."
City will have to achieve their aims in Holland without playmaker David Silva, who remains out with a hamstring injury and has not travelled.
Defender Maicon and midfielders Jack Rodwell and Javi Garcia are also missing.
They will be up against an Ajax side basing their success not on expensive imports but another crop of impressive youngsters.
Coach Frank De Boer, himself one of many products of the club's famed youth system, has no problems with City's methods but is certainly not jealous.
"They do nothing illegal, they can do that," he said.
"We have no money like that so we have to be inventive and creative and we try to use our academy to get good development of young players. That's how we survive.
"I like it more that way than just buying them, even though that's much easier. It's a philosophy. We have a different philosophy."
In this group of champions, Ajax are perhaps the underdogs given the Eredivisie's status against the leagues in England, Spain and Germany.
After losing their opening two Group D matches, De Boer recognises the importance of the clash against Roberto Mancini's men.
The 42-year-old said: "If you want to stay in Europe after the winter break, whether in the Champions League or Europa League, we need a result tomorrow.
"We believe in it. The Real match was a poor match for us and in the Borussia Dortmund game we were unlucky. Tomorrow is different.
"Manchester City are a good team but we have a good team as well and we have faith in a good result."