Chelsea v Manchester United preview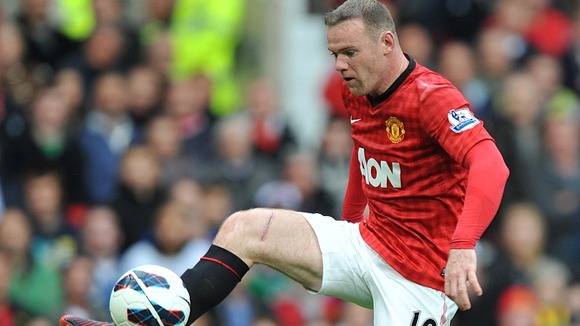 There are so many imponderables before Chelsea's encounter against Manchester United at Stamford Bridge on Sunday.
Will Rio Ferdinand and Ashley Cole shake hands? Will Ferdinand meet the suspended John Terry? Will football, after what seems like endless angst and acrimony, finally move on from the dramas and traumas of the past 12 months? There are even more questions on the field.
Will United boss Sir Alex Ferguson persist in experimenting with his new diamond formation? Can Chelsea bounce back from their energy-sapping 3,400 mile round-trip to Donetsk in midweek and a defeat which has put their hopes of a successful Champions League defence in peril?
Most importantly, will the real Wayne Rooney turn up?
Rooney is crucial to Ferguson's ethos of bringing unpredictability into United's play. It is Rooney who is charged with directing the diamond from his position at the tip behind the main striker. He forms the link between midfield and attack and as such is pivotal to United's success. He also has the talent to move wide when Ferguson feels he needs to switch things around, as he did in midweek when United went 2-0 down to Braga in the Champions League.
At just turned 27 Rooney, who is beginning to click into form after a slow start to the season, is the man Ferguson wants to mould his side around and the intriguing aspect of Sunday's match is that it throws together two sides who are much more adept right now at attacking rather than defending.
There were 10 goals in the clubs' two Premier League meetings last season with a 3-3 draw at Stamford Bridge and everything points to more goals on Sunday.
Why? Because while Chelsea lead the Premier League by four points from United, they have delivered worrying performances in Europe where they have been torn apart by pacy counter-attacking teams in the shape of Atletico Madrid in the European Super Cup and Shakhtar Donetsk in midweek in the Champions League.
Chelsea are a different force from last year. Less compact. More adventurous. More entertaining, if the truth be told, with the talented trio of Juan Mata, Eden Hazard and Oscar providing the firepower behind Fernando Torres.
That is Chelsea's strength. It can also be their weakness, however, as highlighted by Shakhtar goalscorer Fernandinho.
"So many times the offensive players did not come back to help the defence," said Fernandinho of Chelsea's performance. "The team who won the Champions League was more compact and worried about defending."
Against most Premier League teams Chelsea's attacking might would get them out of trouble, as it proved in a 4-2 victory against Tottenham last weekend. Against United they could have problems. Ferguson is the master at producing potent teams on the break and Rooney, Robin van Persie, Javier Hernandez and Danny Welbeck are all capable of punishing teams who leave themselves open.
Not that history is on United's side, considering United's last Premier League win at Stamford Bridge came more than 10 years ago, 3-0 in April 2002, with Paul Scholes, Ruud van Nistelrooy and Ole Gunnar Solskjaer the scorers.
This time it could be different, especially with Chelsea missing Terry in defence and Frank Lampard, who injured his troublesome calf in midweek, in midfield. These are matches where the correct balance of energy and experience is vital.
This is also a match, however, in which the result is secondary to the bigger picture. There are those who believe Terry should no longer be at Chelsea, let alone still be club captain, after being found guilty by the Football Association of racially abusing QPR's Anton Ferdinand.
The debate sparked by the whole Terry-Anton Ferdinand affair and the secondary 'choc-ice' tweet row involving Cole and Anton's brother, Rio Ferdinand, has been heated and divisive, culminating in the threat of a breakaway union for black players.
That cannot be the way to fight racism. Much better a unified stance. Everyone pulling in the same direction for tough and consistent penalties for offenders on and off the pitch.
Chelsea have not covered themselves in glory over the past 12 months and obdurately refuse to reveal the extent of their own fine meted out to Terry.
But it is time to move on, starting at Stamford Bridge on Sunday with a match portraying the brightest face of the so-called 'Beautiful Game'.
Do not be surprised, however, if a Rooney-led United leave with all three points.