Allardyce: Nolan my best ever buy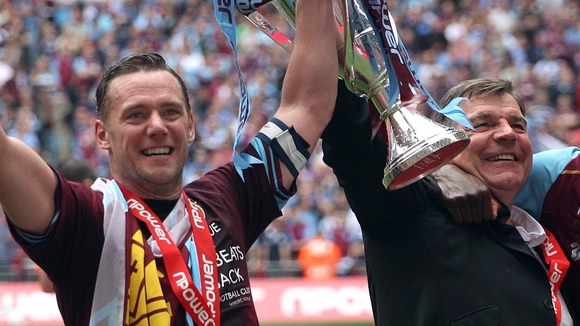 West Ham manager Sam Allardyce has labelled skipper Kevin Nolan as the most important signing he has made in his long managerial history.
Nolan moved down from Barclays Premier League side Newcastle to join Allardyce at West Ham as the marquee signing as the Hammers looked to return to the top flight following relegation to the npower Championship.
The 30-year-old Nolan played a key part in achieving promotion and Allardyce, who also managed Nolan at Bolton, believes his captain has been a revelation on and off the field since moving to Upton Park.
"I always said that Kevin Nolan was the most important signing I ever made," he said.
"It wasn't just about what he does as a football player on the field, it's what he does as a captain. He unites dressing rooms by his experience and the fact that he is a leader of players.
"He could lead that dressing room and he could pull them altogether. He started that from the day he came in and that has grown as we have come on.
"As a goal-scoring midfield player, you have to look at his record. There are very few who have the same goal-scoring record on a consistent basis that Kevin has.
"It's no fluke that over the past few years - apart from one year out in the Championship when he scored 17 - he has scored every year a considerable amount of goals, always very close to double figure or just past double figures."
Allardyce also claimed Nolan moved to the club because Newcastle were unwilling to offer their then-captain a longer contract and praised the work done by co-owner David Sullivan in securing Nolan's services.
"He didn't have a point to prove. Apart from the fact that he wanted a reward from Newcastle that he didn't get and that was a longer contract, which, apparently, they refused to negotiate.
"So we stepped in. It was only by the quick and swift work of David Sullivan particularly that we got Kevin before anybody else even knew he was on the market.
"He chose to come which was a big decision from his point of view because I think he could have waited and gone for a Premier League side. Particularly after scoring 11 goals that season. So, we managed to get him and it has paid dividends for us all."
Although he has always been a regular goalscorer Nolan has never been capped by England and, even though he is now 30, Allardyce believes he still deserves a chance to represent his country.
He said: "If he continues to do well in the Premier League this year and he continues to score - he has four in eight now and to be quite honest he could have had a few more.
"Four in eight from midfield, which is one every two games which is pretty good going, so hopefully he will keep that up. He might be noticed, depending on how Roy (England manager Hodgson) seems to set up his team and who is available.
"If he is one of my players, I always say they should be given the chance. But that is a big step, stepping into the full England squad. It's a big step. I mean he has done every other level. In his younger days, up until (Under) 21s. That is one big step that he has never done yet."