Clarke inspired by Sir Bobby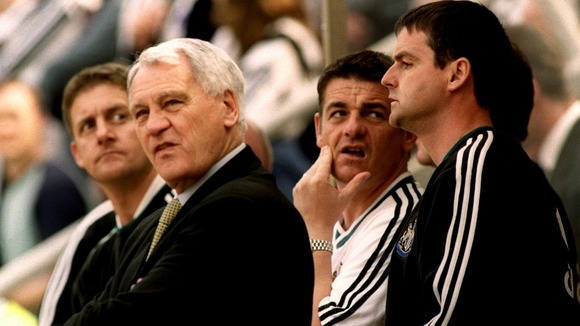 West Brom boss Steve Clarke has hailed the impact of Newcastle legend Sir Bobby Robson on his coaching career ahead of Sunday's Barclays Premier League clash at St James' Park.
Clarke ended his playing career at Chelsea before joining the Magpies as number two to Ruud Gullit and then working under his replacement Robson.
It offered invaluable experience to Clarke who has steered the Baggies into the top six in what is his first senior role.
Clarke said: "I was lucky to work with Bobby for a year and I took a lot from the way he dealt with and managed the players.
"He was great to me because he knew I was a young coach who wanted to learn and he sat me in on some of the meetings when he was one-to-one with a player.
"He would have me there to watch and observe and see how he spoke to and dealt with players and that was absolutely invaluable for me.
"It was just his manner and his way of getting the best out of players.
"As a manager there is not one way to get the best out of a number of different people.
"There are a number of different ways to get the best and Bobby seemed to have the gift of being able to recognise and understand what sort of motivational tool he had to use at that time."
Clarke had one game as caretaker boss at Newcastle after Gullit's sacking and it was a chastening experience - a 5-1 defeat against Manchester United at Old Trafford.
He said: "I enjoyed that little experience and it was a little cameo. The score 5-1 is there in the history books and it looks terrible but there is a story.
"It was 1-1 at half-time and we looked all right. Within a minute of the second half starting we were 2-1 down and down to 10 men after Nikos Dabizas was sent off.
"You know then at Old Trafford it's going to be a long afternoon, especially for a team that was struggling.
"It was such a whirlwind, the events that happened, from Ruud leaving the club to trying to get the place back together again for the Tyne-Wear derby, which we lost at St James' Park.
"That never goes down very well and then the next game was Manchester United. It didn't whet my appetite, it was just something that had to be dealt with at the time."
Clarke is full of praise for current Newcastle boss Alan Pardew and the team he has assembled.
He said: "I thought they were fantastic last season. They've got some really good players and are dangerous from a lot of areas on the pitch.
"I would say it is the best team since that Sir Bobby team that did really well.
"They came out of that into a period that was a little more rocky and now they're trying to get that stability back.
"If you can get stability at any football club then it makes it easier for the people who are trying to make the club successful."