No hard feelings for Lambert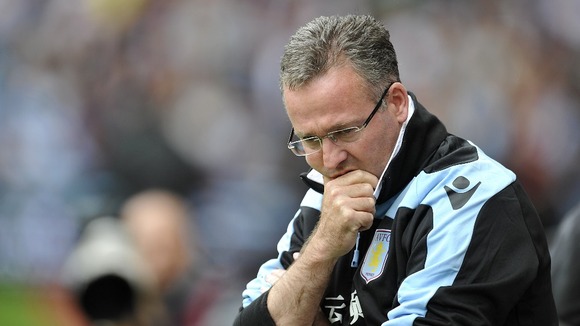 Aston Villa boss Paul Lambert says he will shake hands with certain Norwich directors when his former club visit Villa Park for today's Barclays Premier League encounter.
Lambert will lock horns with the Canaries for the first time since his bitter summer departure from Carrow Road to join the midlands club. The Scot and Norwich are both suing each other for breach of contract, with the matter to be resolved by a Premier League tribunal.
Lambert was upset when Norwich chairman Alan Bowkett made the matter public at a fans' forum last month and also claimed Lambert had left all of his previous clubs in a similar manner.
When asked if he would shake hands with the Norwich directors, Lambert said: "There's some good people there, really good people - some."
Asked whether he would shake hands with representatives of Norwich, and with which people, Lambert added: "Some people."
Lambert would not disclose if he would exchange handshakes with Bowkett, although he had revealed the pair had not spoken for two years.
But he insisted he had a sound working relationship with joint majority shareholder and television chef Delia Smith.
He said: "Delia was really fine and really nice. I think people think that she invites you around her house and bakes cake and all that kind of thing.
"I don't think that really happens, but I got on great with her."
Lambert, who is being represented in his case against Norwich by the League Managers Association, will give his version of events that led to his departure when the matter has been resolved.
He said: "It (what has happened) doesn't tarnish my view of my time at Norwich because I know what we did and I know what happened there.
"Myself and my staff had three fantastic years at the football club.
"I think what probably bothers me the most is the fans' perception of it, that's what hurts the most."
Asked whether he would give his side of the story, Lambert added: "I think in the end, when it's all done and dusted, but we'll see what happens.
"Maybe some fans will take that into account (that my side of events has not been heard). I don't know, maybe, some will and some won't, but we'll see what happens in a few months.
"But I've got nothing to be ashamed about, nothing."
Former Celtic player Lambert is not a stranger to receiving stick from fans given his upbringing in Glasgow.
He said: "I had a bit of abuse from the fans of one of my former clubs in Colchester because of the circumstances of what happened there but I think everywhere else has been quite good.
"I come from a city (Glasgow) where half the city doesn't like you! Even to this day you still get some stick when you go back, so I've been brought up with that."
Lambert steered Norwich to successive promotions but recognises the challenge he is facing at Villa.
He said: "This league is unforgiving, that's the big difference. In League One you could play badly and still win games. This is a totally different animal.
"This club is totally different from Norwich, but the same principle applies. You have to win games.
"In the Premier League, if you don't perform to your best you'll get turned over. That's the difference.
"League One's a hard, hard league. You are going to smaller grounds. Everyone wants to beat you because you are one of the so-called bigger clubs.
"But in the Premier League, if you don't perform to the best of your ability you get turned over. That's the big difference.
"You have to try to get things up and running pretty quickly because of the calibre of teams you're coming up against."
Meanwhile Lambert revealed central defender Richard Dunne is still some way from launching his comeback from a groin injury which has sidelined him since the start of the season.
Lambert said: "He's not ready. He's been feeling a lot better and that's a good thing. He's still not training with us but hopefully he'll start very shortly.
"It's in his groin area where he has been having a problem. He had the surgery and then went back in to have a look again and get it done.
"He's hardly really trained with us, I've not seen too much of Richard at all since I've been here."